Tuesday, 8/10/2009
We decided to kayak down the Kickapoo River. This river is famous for its kayaking and canoeing and you can do all kind of different trips, some over a week; along the river are multiple tent sites to stay overnight. We had again a wonderful time on the river and Andreas managed to overturn his kayak only once. We made a couple of breaks on the river's sand dunes.
Sunday, 8/9/2009
Well our new neighbor "friends" at the KOA in Hayward had some difficult time to get up in the morning and move around, but I got good news from Sylvia that see has Monday and Tuesday off and will come up to our property in Wisconsin. So it was not difficult for me to decide to leave Hayward a day earlier than planned and meet her in Avalanche. Monday morning I packed the trailer let my leftover crew sleeping, hooked it (or maybe her) up, stopped at the office to get a refund and was underway direction West Fork Kickapoo Valley. We dropped Dylan in Westby and shortly after 2 o'clock we arrive on our property. That evening we had peaceful campfire and even though Sylvia was up here it did not rain.
Saturday, 8/9/2009
Today we packed and hooked up the trailer early as Stephan was eager to get to his Friend, the first party with girls from L'Anse was already organized and he wanted to be on time. Schreiner's retreat is on a beautiful sandy beach on Lake Superior in an unmatched solitude.
Schreiner's Porperty in L'Anse
After arriving we got invited to a boat ride in Tom's boat or maybe better speed racer. The boat is brand new and looks pretty cool.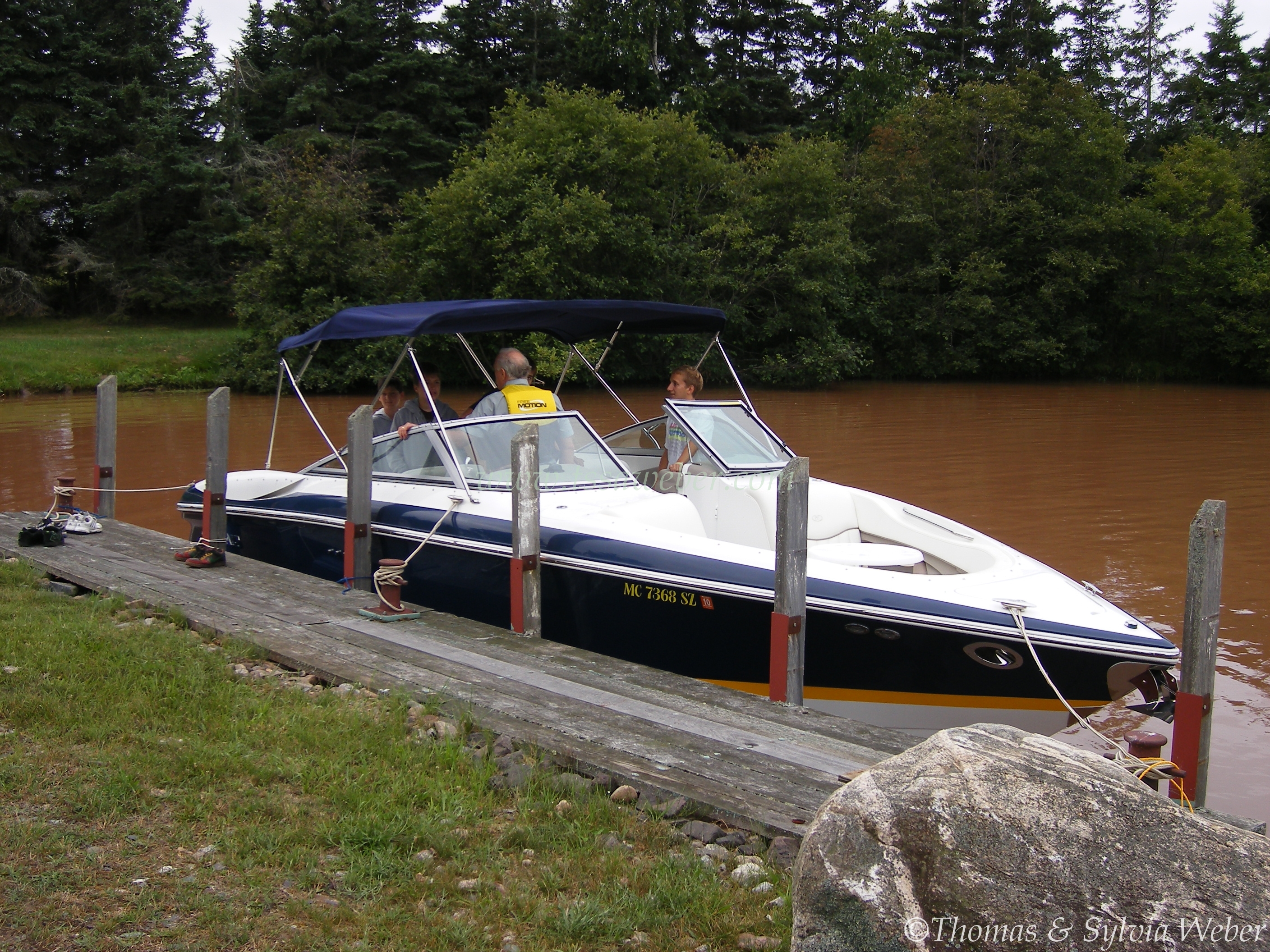 The kids are having fun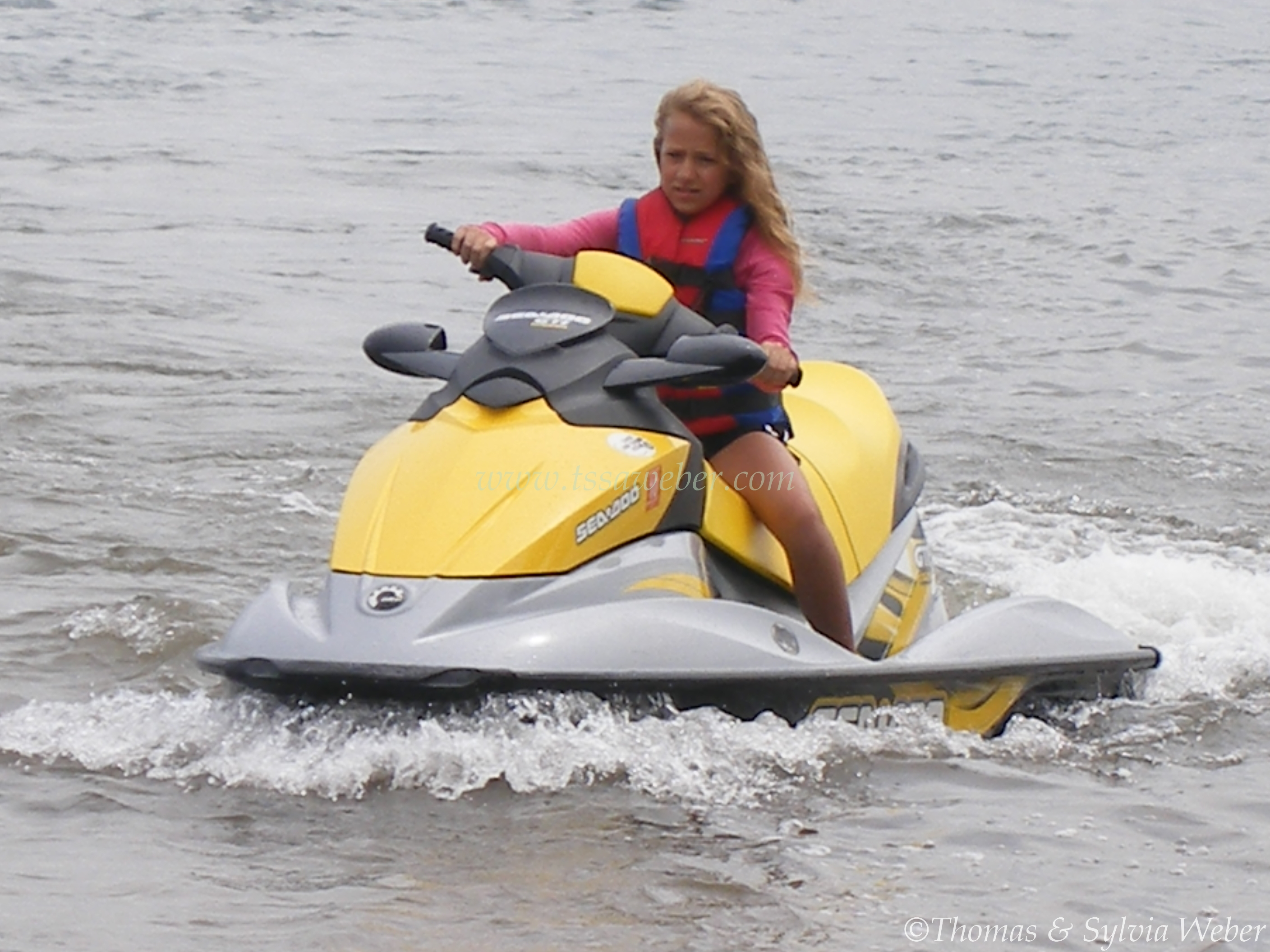 After the boat ride we left for Hayward Wisconsin. The KOA there has a very long waterslide and a big jumping pillow, all assets for Dylan and Andreas my "leftover" crew. As usual I didn't made reservation and for the first time this vacation, we had difficulties to get a spot. But we were allowed for one night to park our trailer on a site which is normally reserved for guests with tents and small popup trailers. But we had to move to another site for the next night. When I arrived the male population from the surrounding sites was very eager to see, how I would manage to park my 31 foot trailer in this tiny spot. But I disappointed them all, when I backed up in one go, straight in the site. Of course Andreas my new helper guided me well. Now I had a lot of new friends, which ended up in a long night for me with a lot of beer. It was good that Stephan was not here, because a lot of underage drinking went on around us and a couple of girls had a difficult time to find their tent. Apparently Wisconsinites are more relaxed with this topic. But I would hate to see all our educational efforts tanked or at least in jeopardy, with just one night like this.
On the way to Hayward I also lost my sewer hose and when I had to make a U turn, I also twisted one of the front jacks. I've done this already once a couple of years ago and we had to buy a pack of two. Now at least I have one spare, but the trailer has to go again in the shop.
Friday, 8/7/2009
This morning we really got up early and found the spot on the East Branch Tahquamenon River as described in our fishing guide. Unfortunately the description in the book is not accurate anymore and the riffles, gravel etc. are long gone, but also the trail along the river doesn't exist anymore, but you still see pillars of the former trail bridges crossing different feeder streams. This all tells us that probably our book is completely outdated and the different rivers we visited so far, have changed so much that the book loses somewhat its value. All this is supported by our experience from West Fork Kickapoo River in the driftless area which has completely changed its character in the last 3 years due to all the devastating floods in this time period.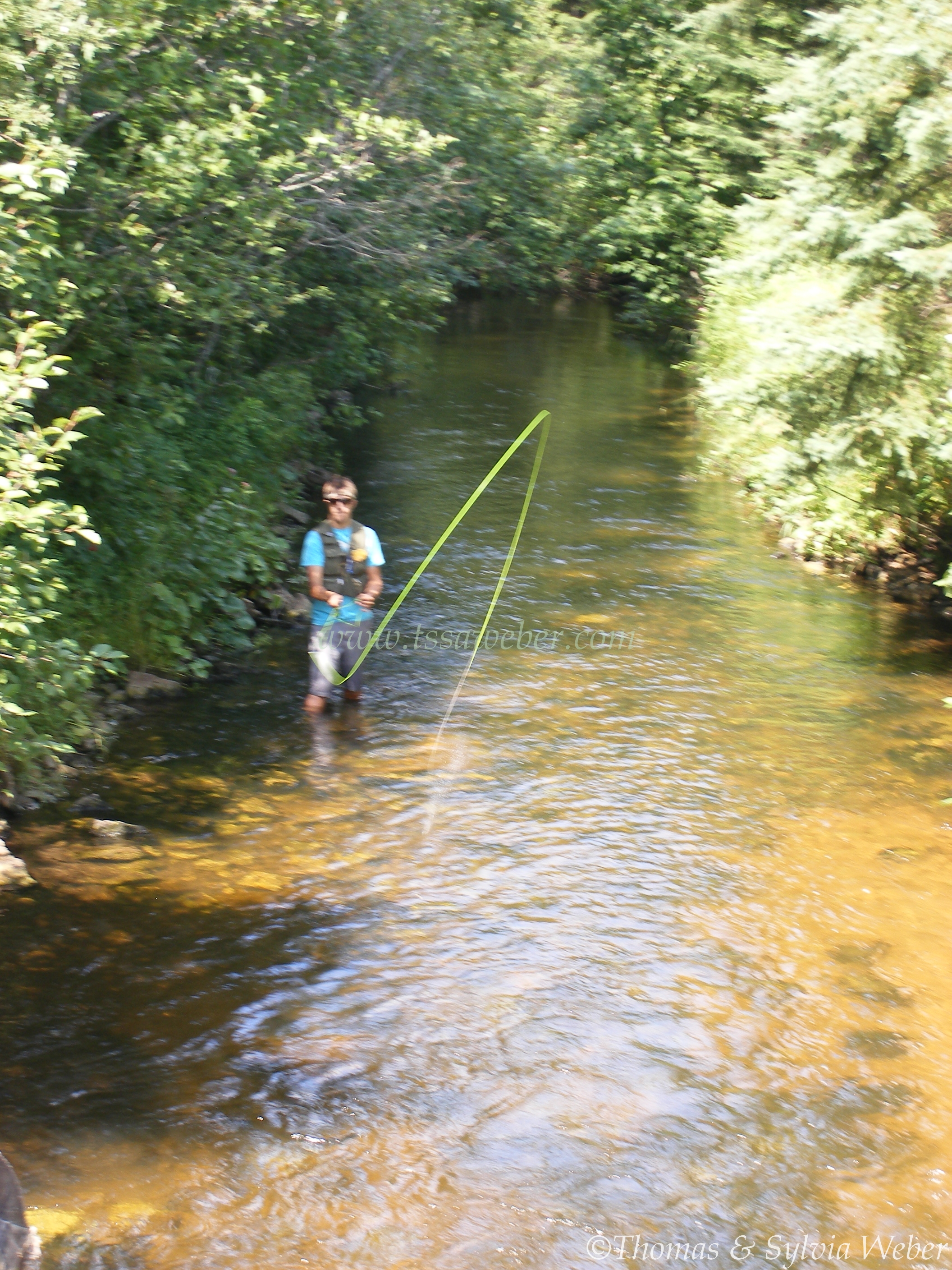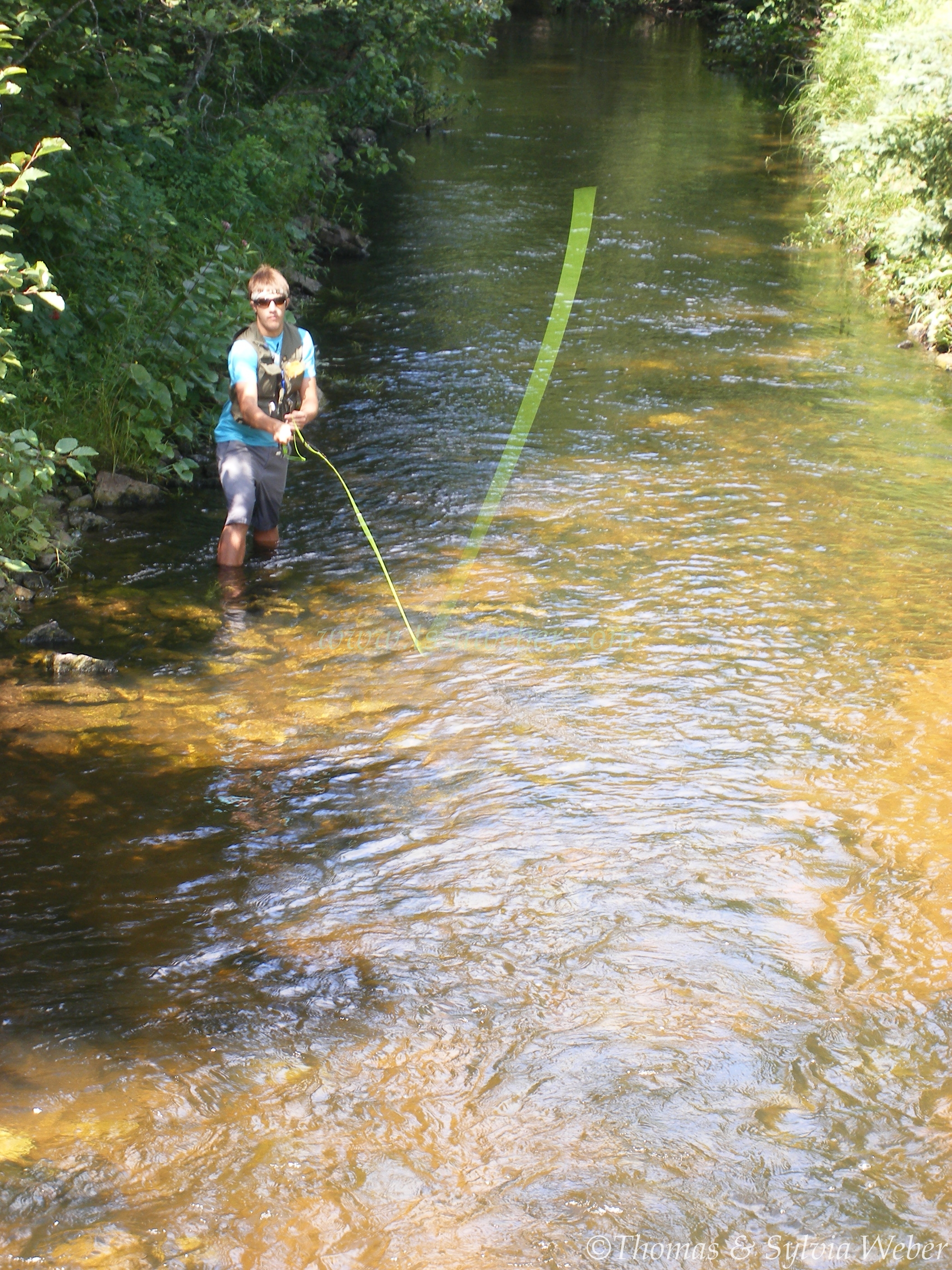 In the evening we fished the Two Hearted River further up North. Even though we only caught little trout it was a great river exactly to our likening.
This is the last fishing for this vacation. Tomorrow we will leave for L'Anse, MI on Lake Superior where Stephan will stay for a week with his friend Tommy. He is there on vacation with his parents.
Thursday, 8/6/2009, 6:45 pm EST
Yesterday the all important WIFI didn't work on our campground, which is very unpleasant (per the kids) because no game-boy, IPod, or laptop etc. would work correctly. I have to agree, because also I apparently got used to this setup; I couldn't download the pictures Stephan sent me from his cell phone, nor read my emails and of course could not upload and update the blog. There seems to be a bigger problem with the internet because now it's 6:45 pm and that da……. thing is still not working. Blog writing has to be done again in MS Word and copy pasted afterwards.
Today we visited the famous waterfalls; the weather was great even though on the cooler side, only 67 degree F. Again the pictures will speak for themselves.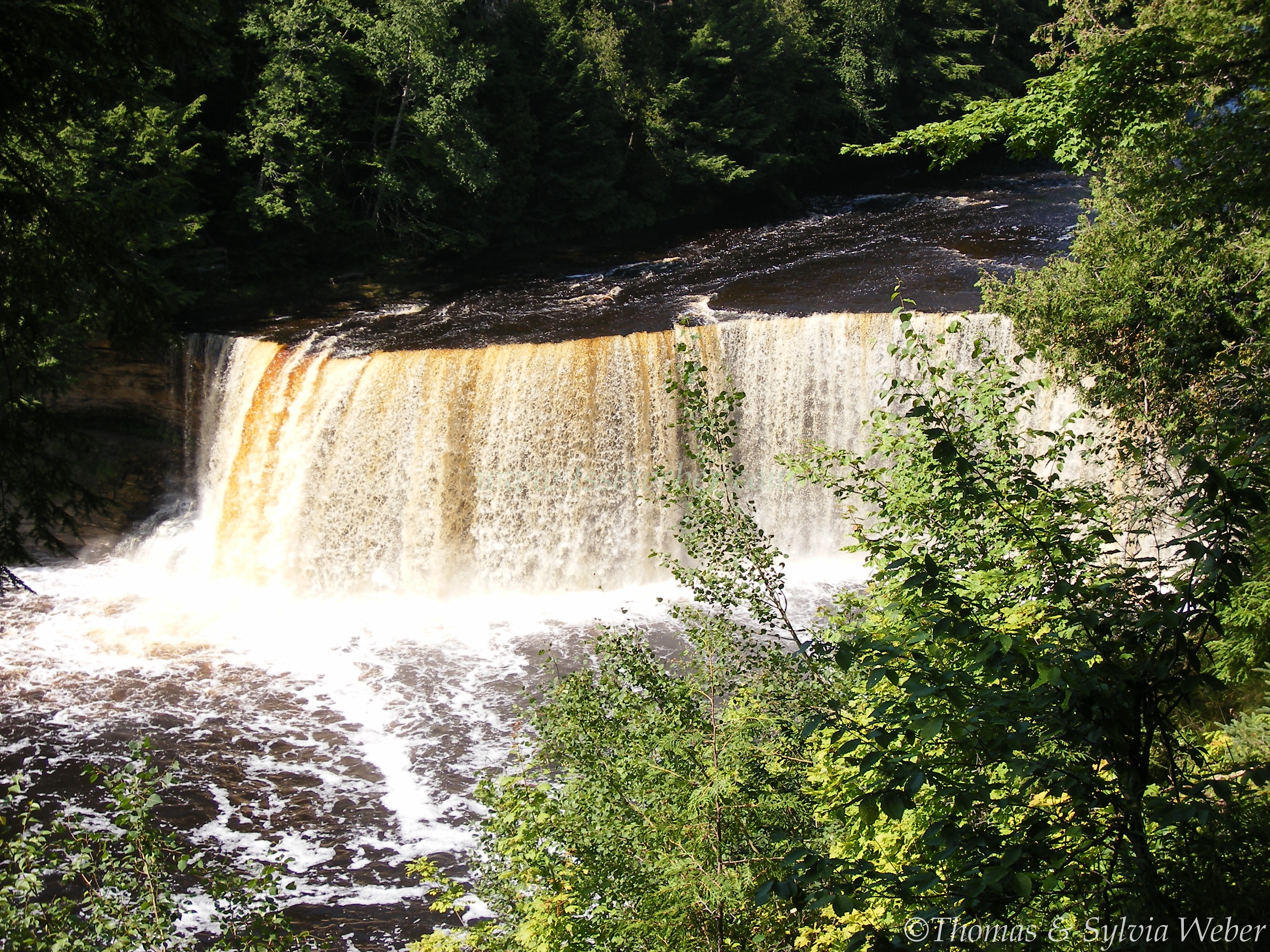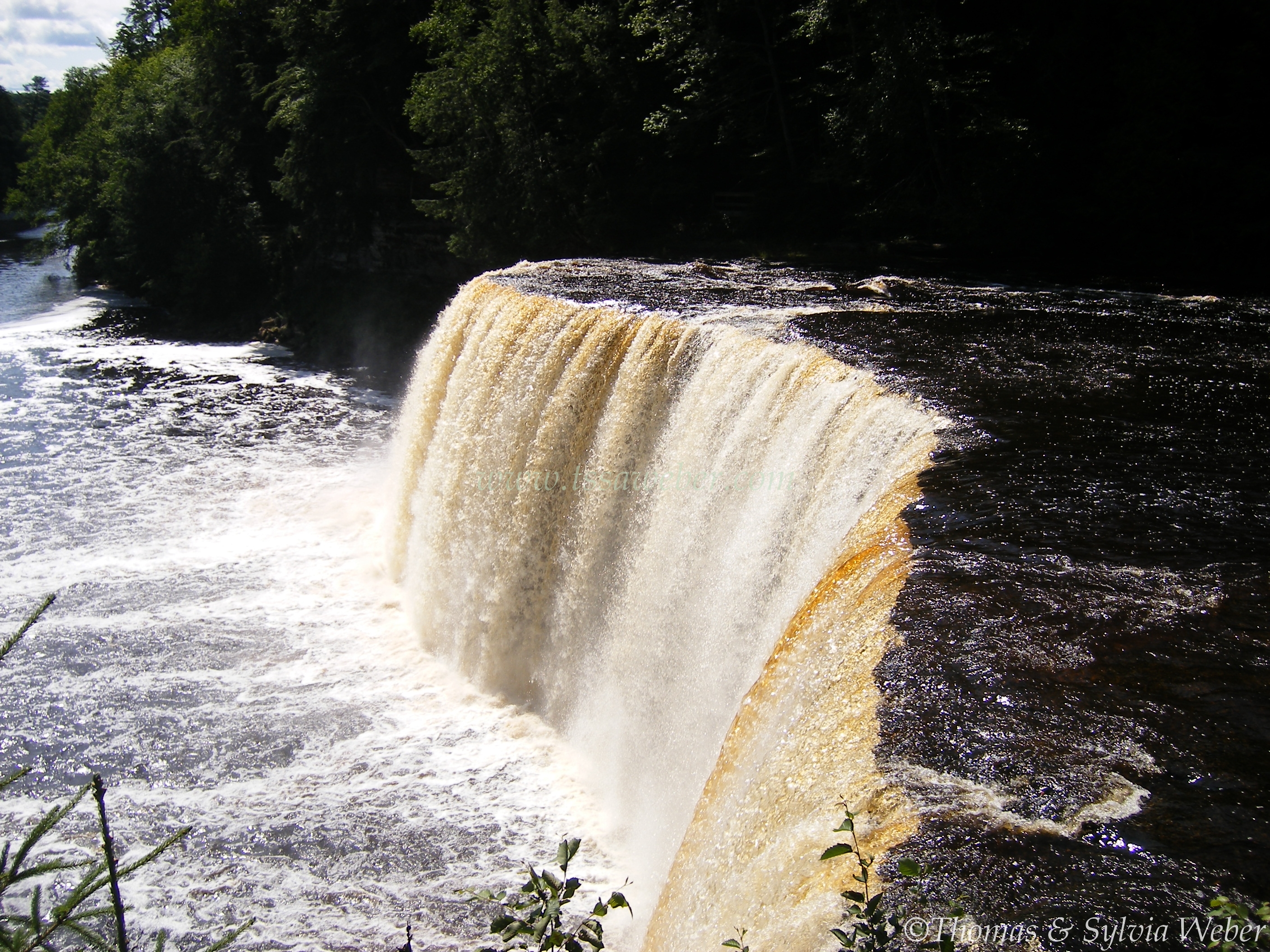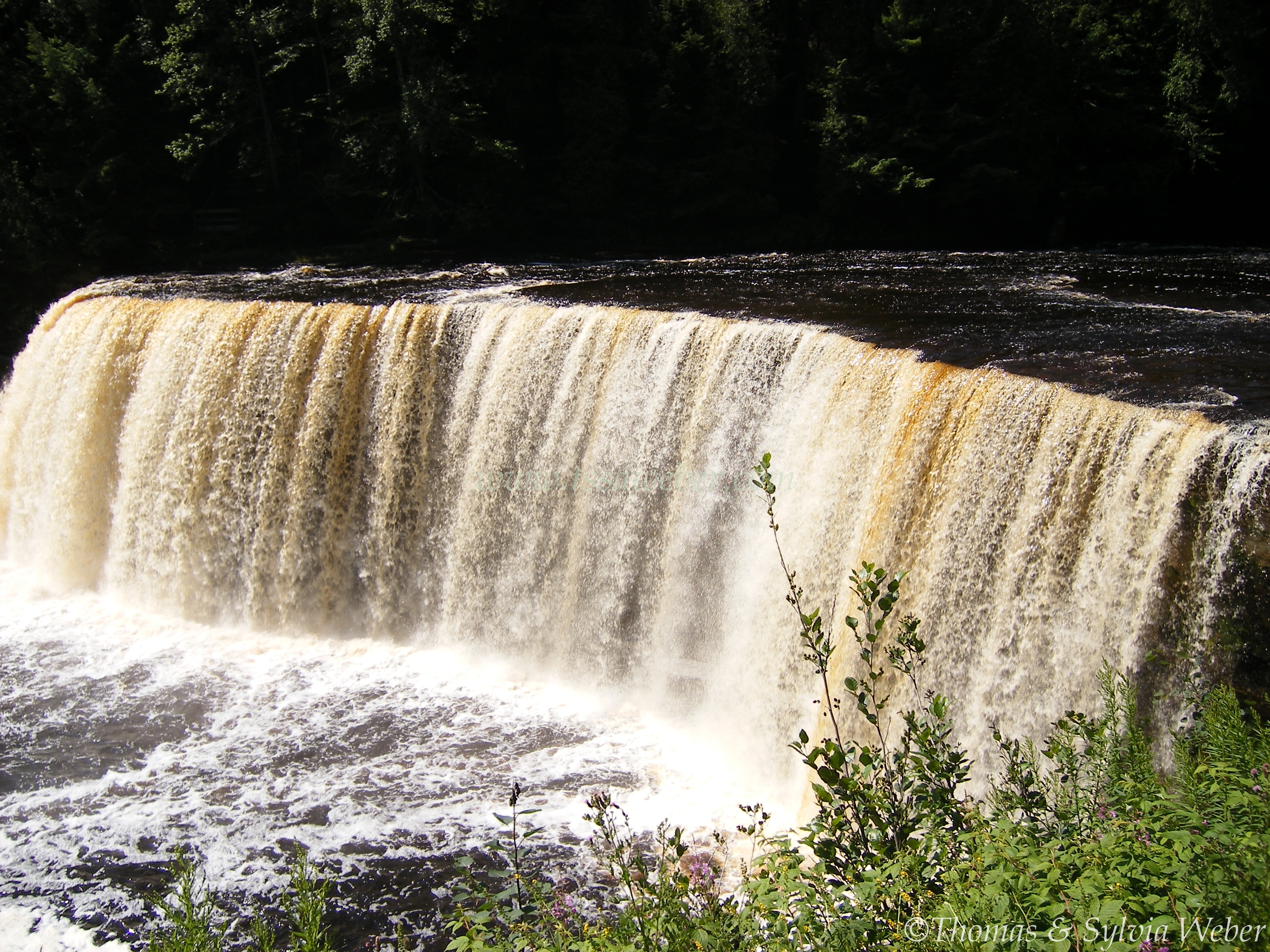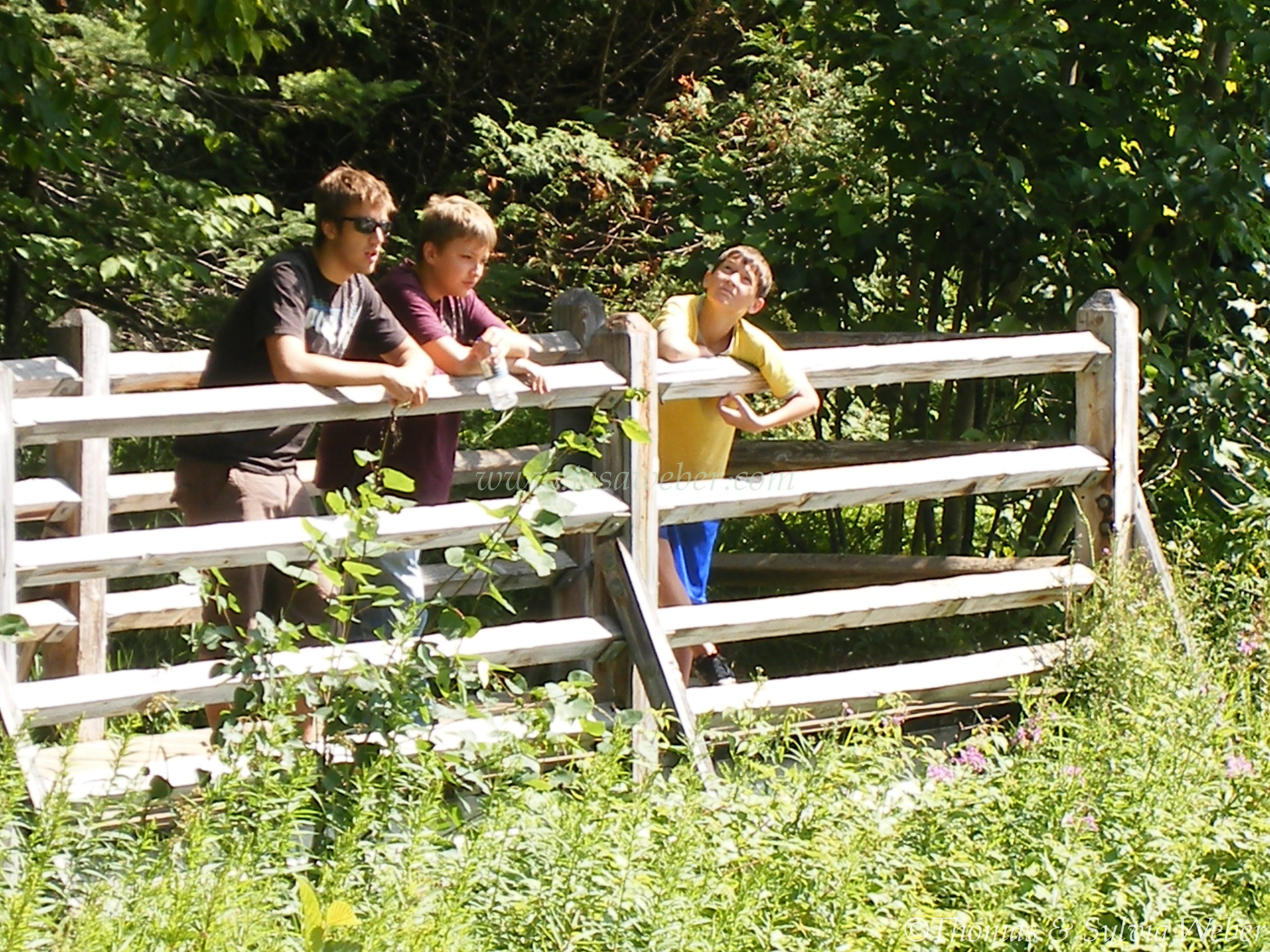 The shipwreck museum exhibits a lot of tragedies and shows how difficult and dangerous the weather can be up here. This year apparently they had 211 inches of snow or a little bit more than 17 feet. This is even for me, growing up in the Swiss mountains impressive.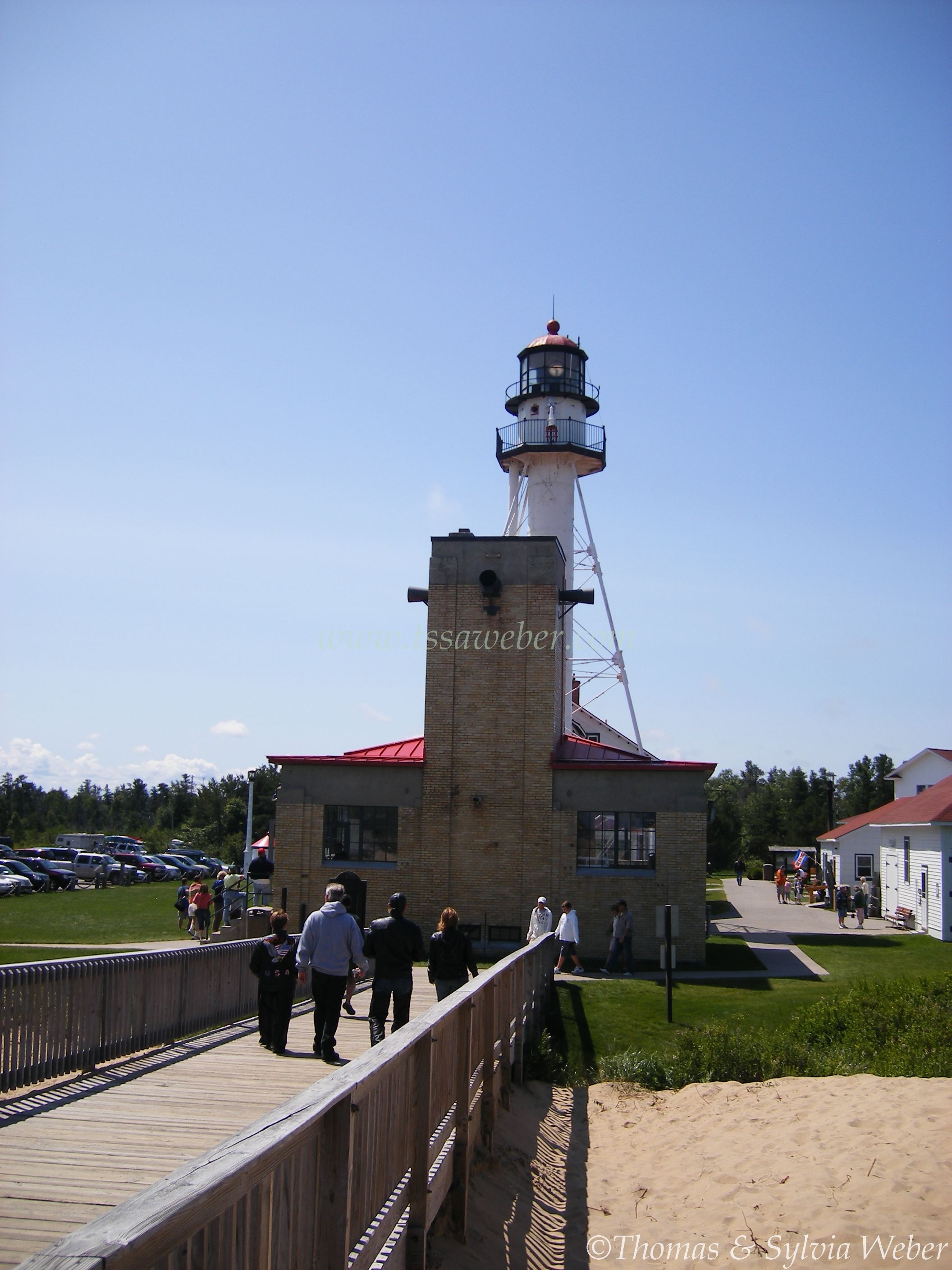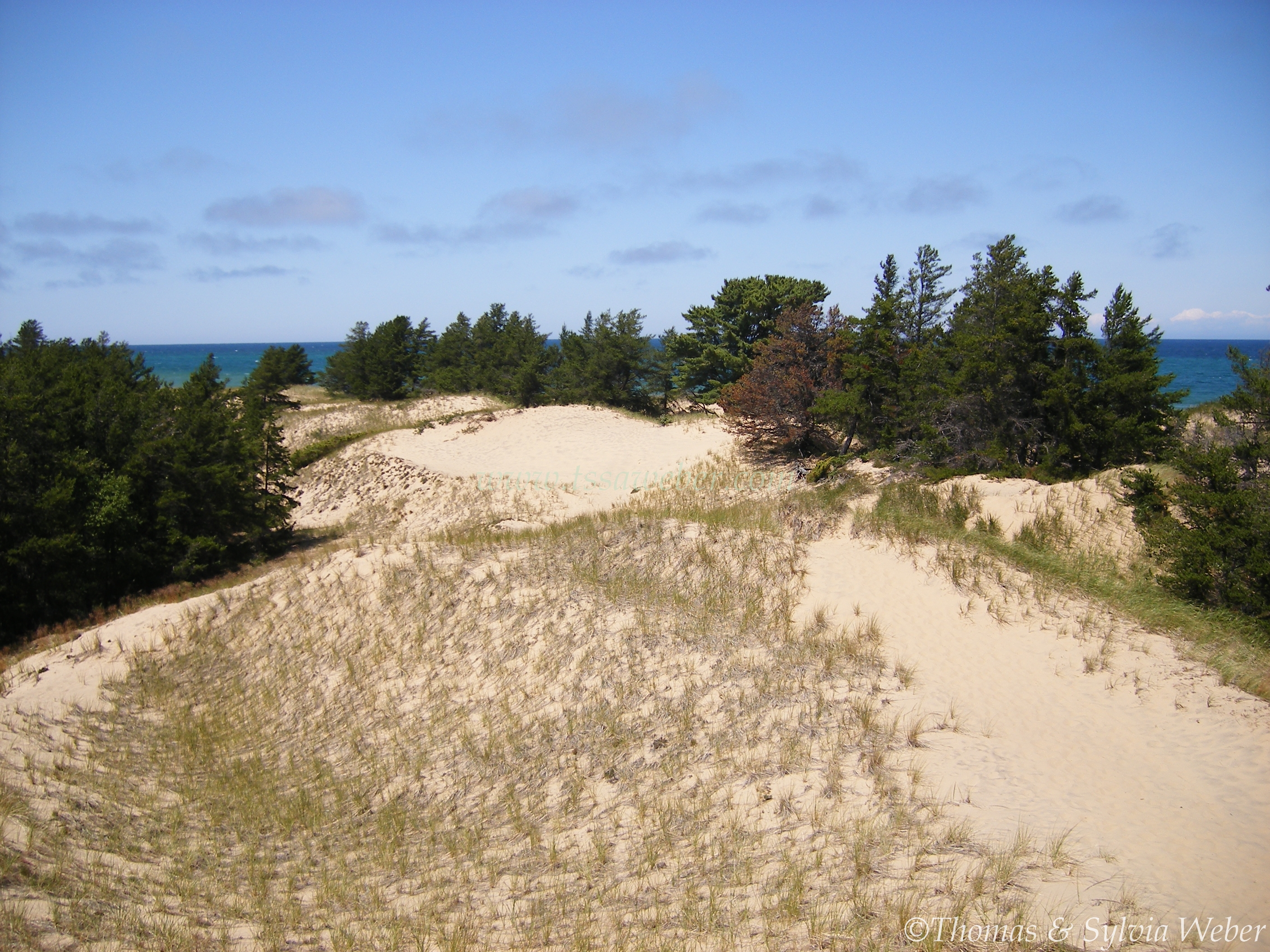 Wednesday, 8/5/2009
Today Stephan and I got up again very early, 5:30 am CST and went fishing. It was cold and the thermometer only showed only 50 degrees F.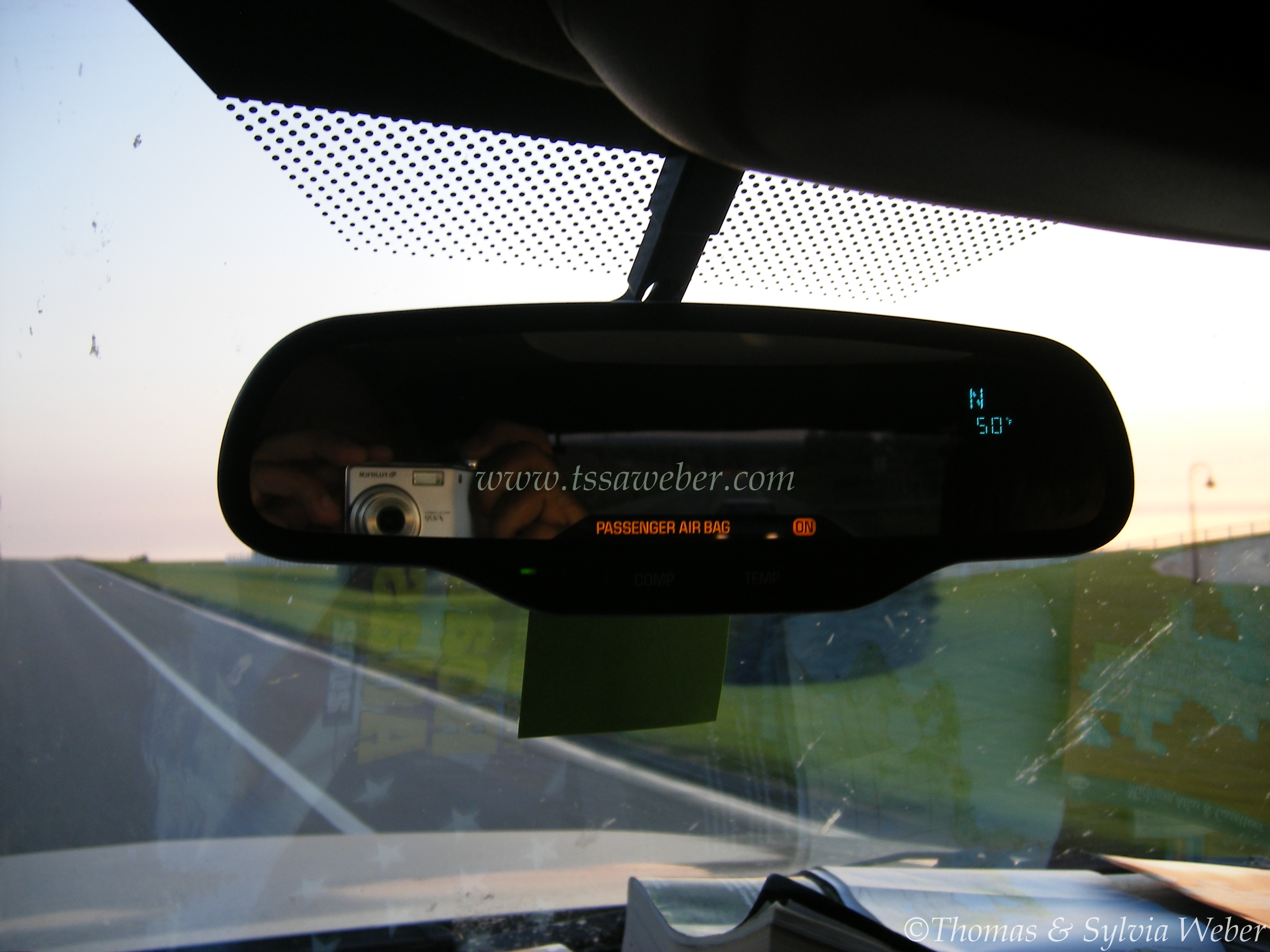 But we went fishing in our summer outfit. We were not really successful but it was a lot of fun.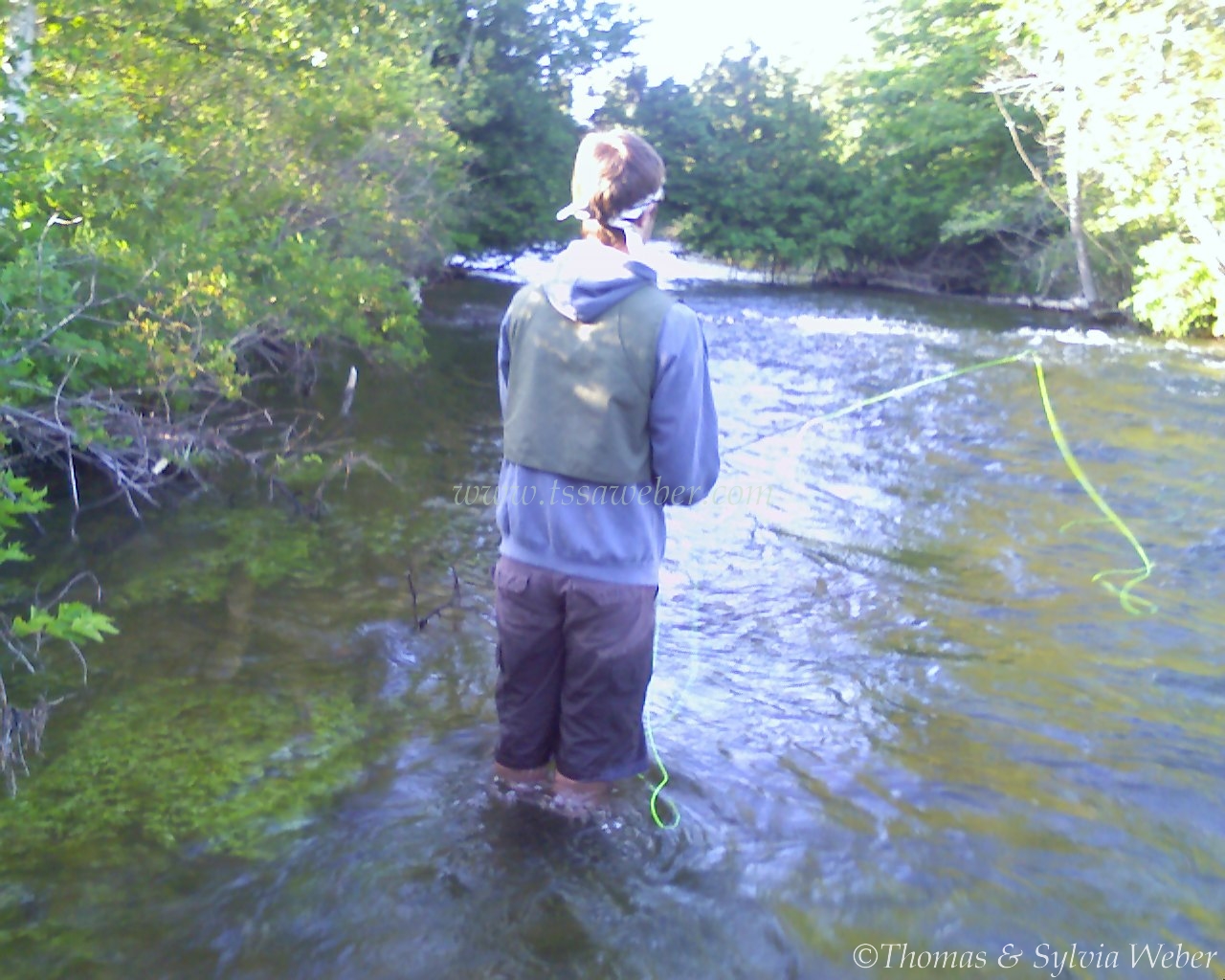 When we came back the car would not start, the battery was dead. This created two "very" happy campers as you can imagine, specially the older one. We were just lucky that this did happen when we were parked next to a highway in a parking of a well used trailhead and our cell phones would work and not in the middle of nowhere.
But no need for the cell phones, not too long after our discovery a nice couple parked their car close to use and Stephan run to ask them if they could jump-start us. It was good that we always have the necessary cables in the truck. We could start our car but as this happened for no obvious reason, we decided to have the car and battery checked. The bad news was that the battery had to be replaced. The good news, it was an easy fix and it done in half an hour.
I guess "nomal mit emene blaue Aug devo cho".
After that we hooked up the trailer in record time (15 min), the" little" guys were still sleeping when we left in direction UP.
Now we are at the KAO in Newberry. Tomorrow we will visit the Tahquamenon waterfalls -maybe we can fish there- and then we will visit the Shipwreck Museum.
Tuesday, 8/4/2009
We spent the day in the Sleeping Bear Dunes National Park. We had gorgeous weather and the kids had a lot of fun running up and down the sand dunes and the water of Lake Michigan was warm and even I enjoyed a little dip. But I believe the pictures speak for themselves….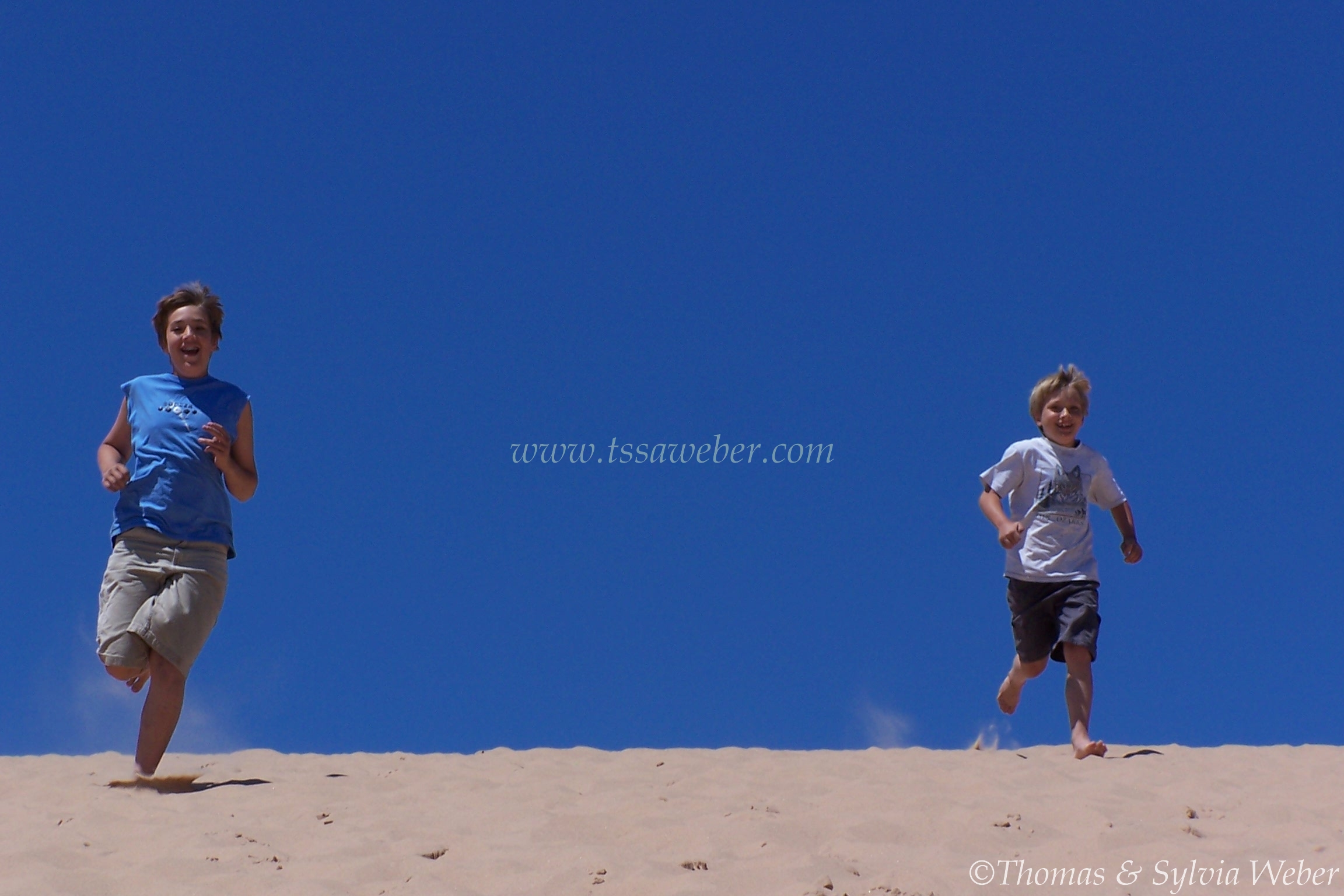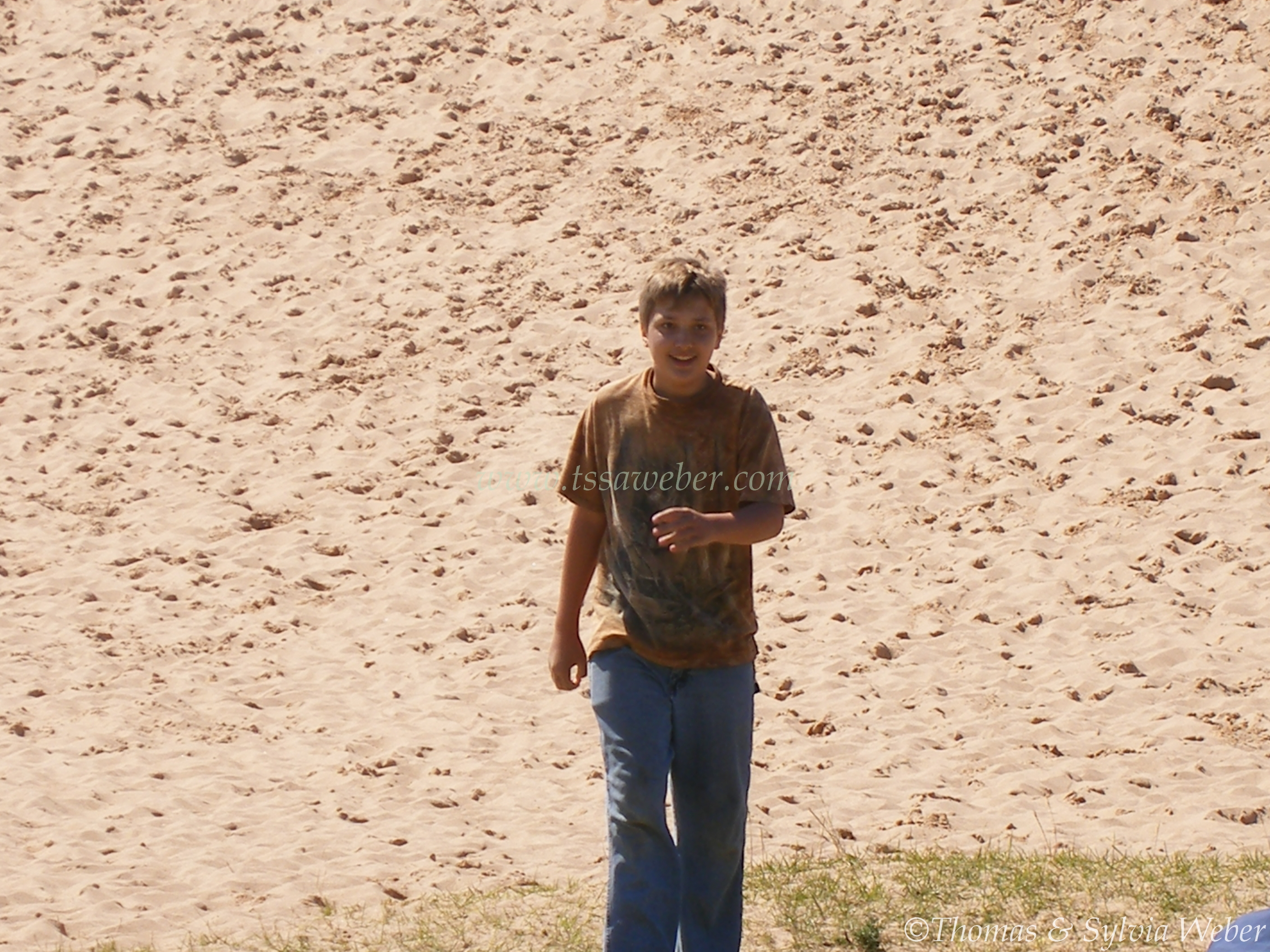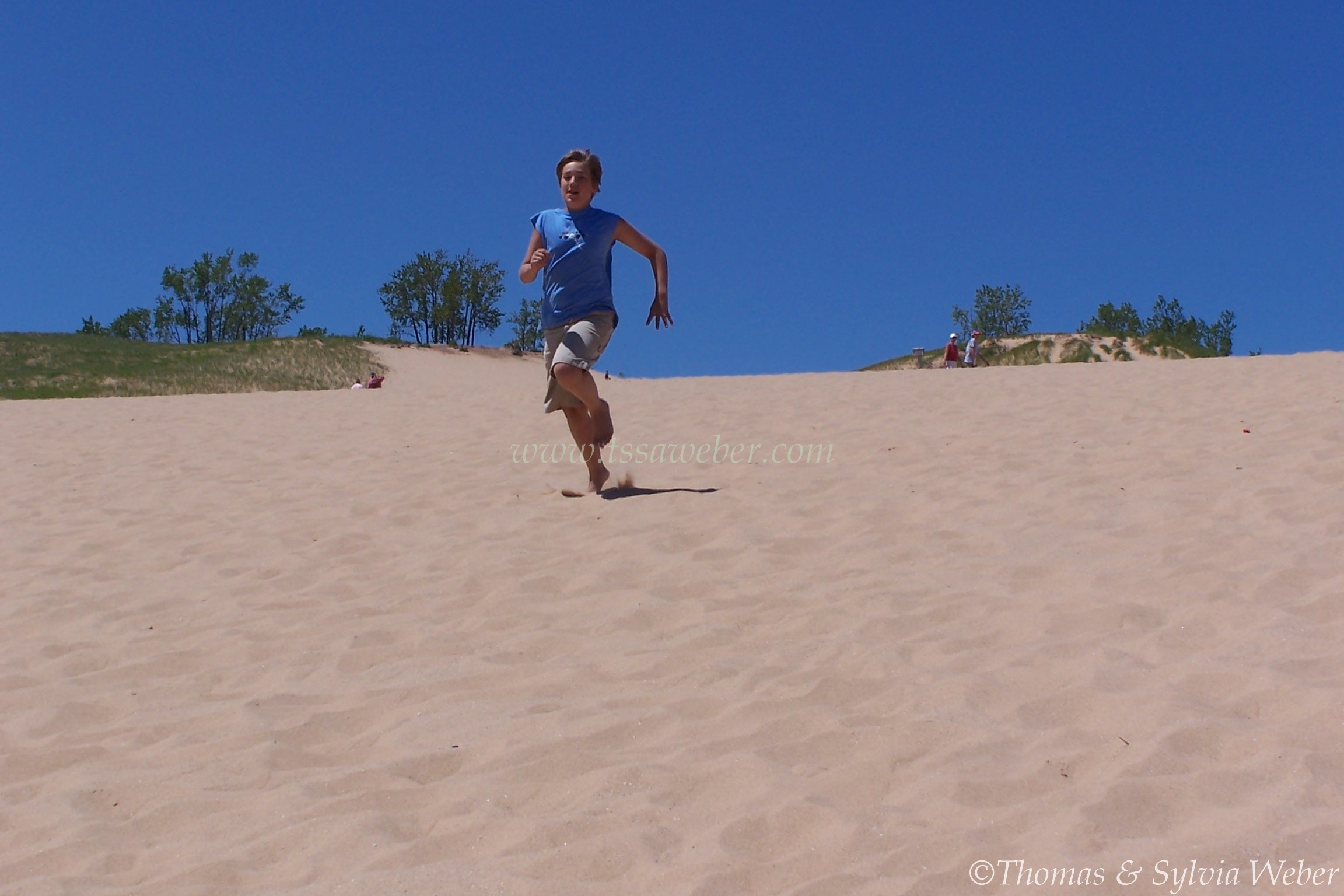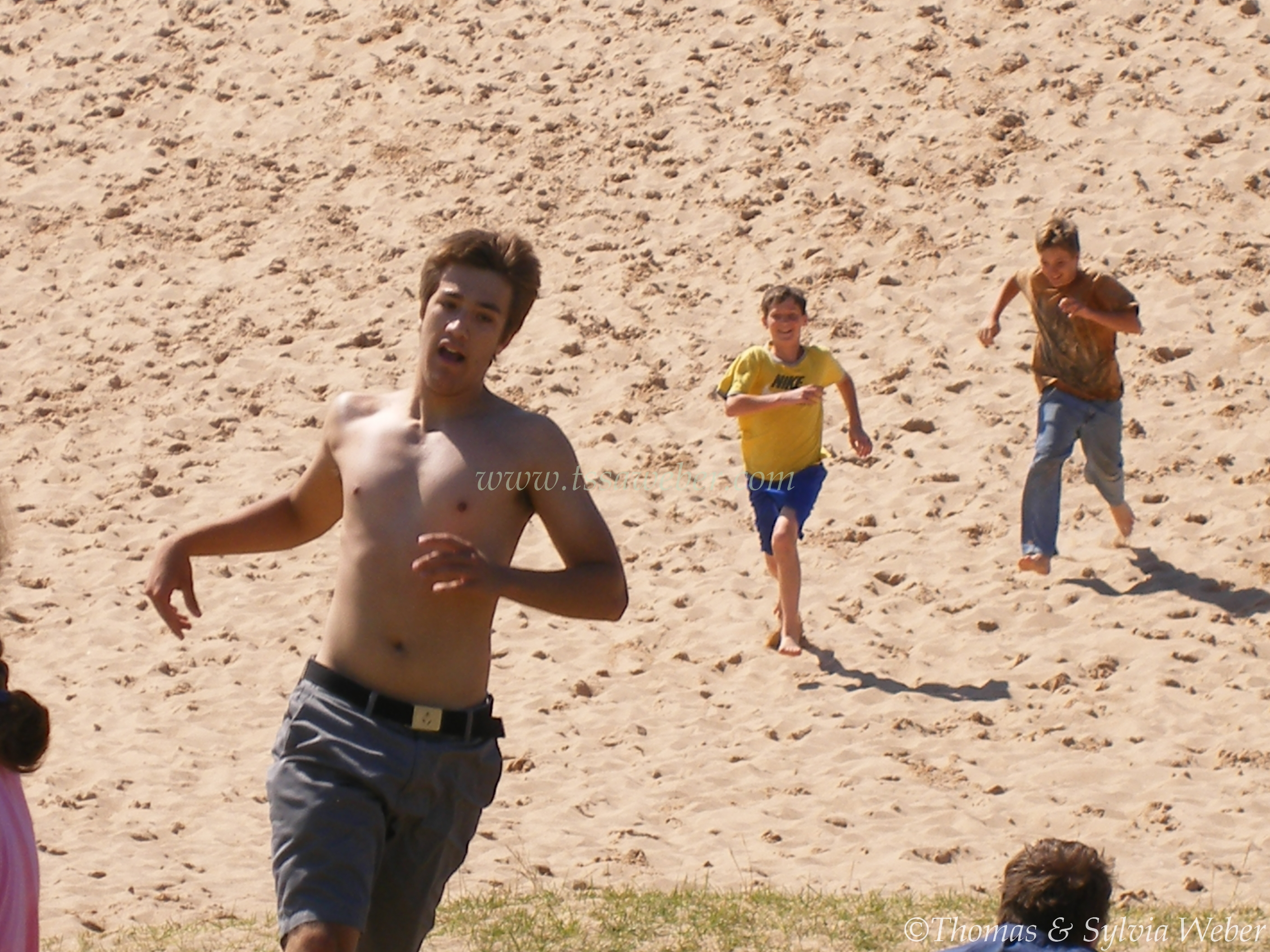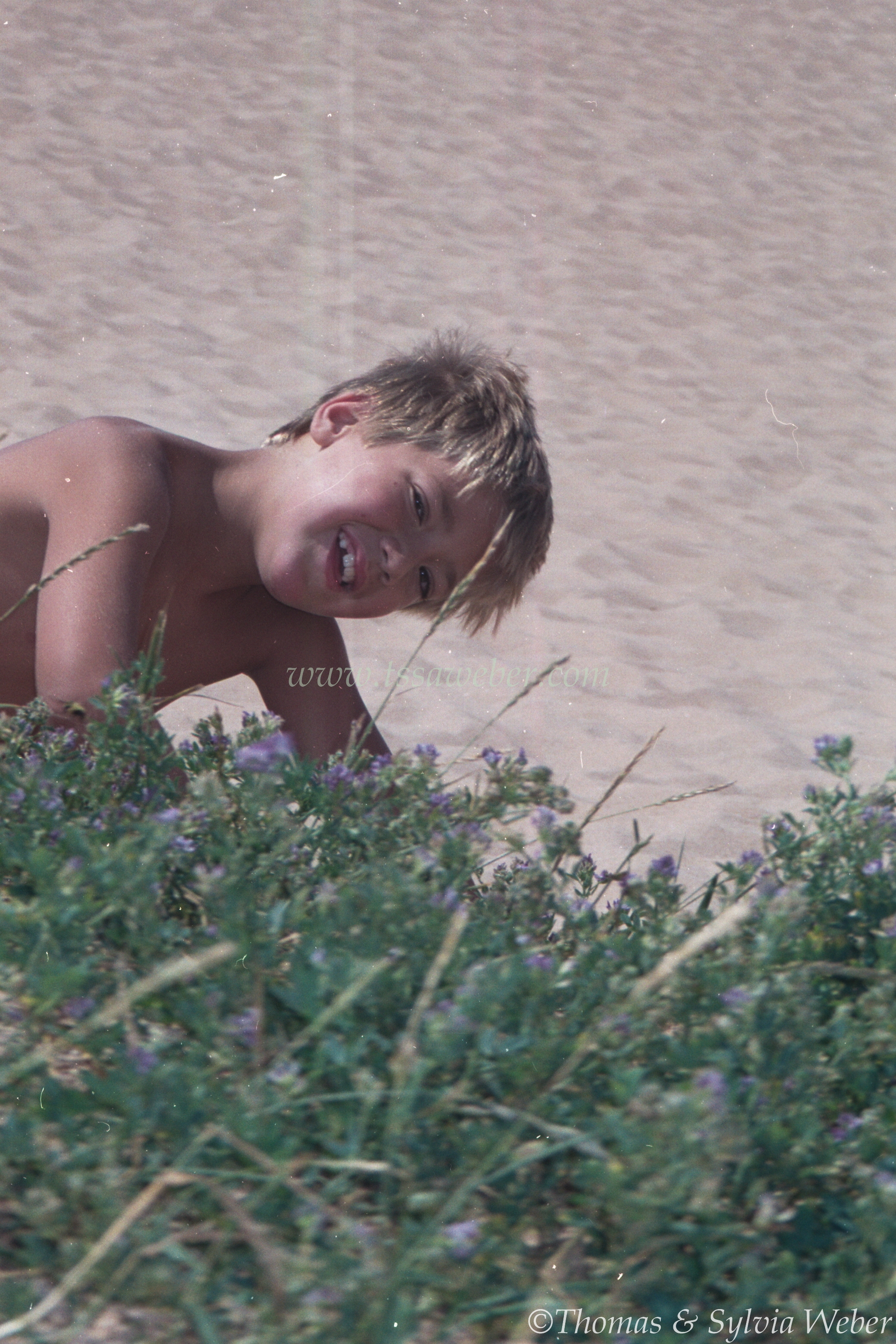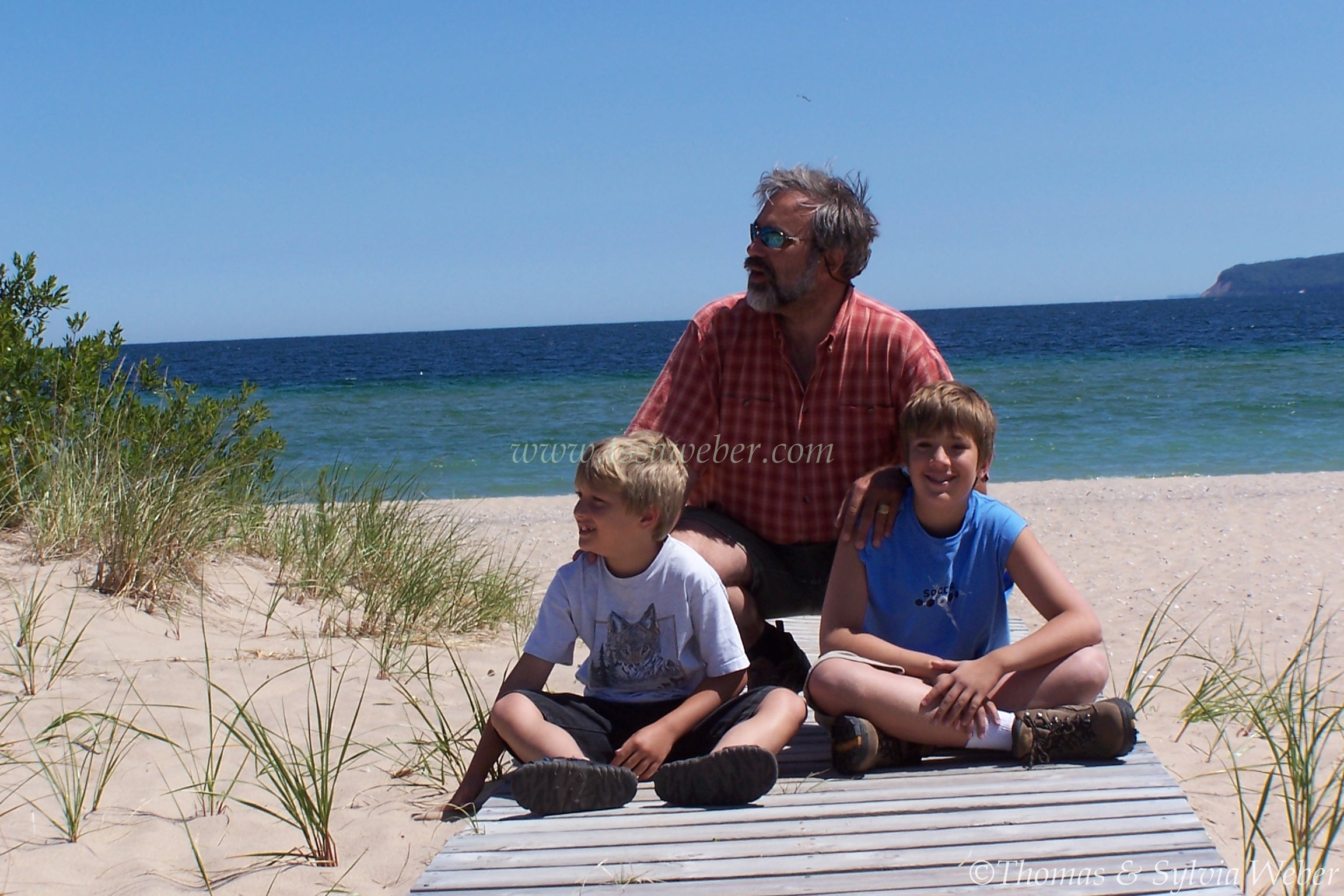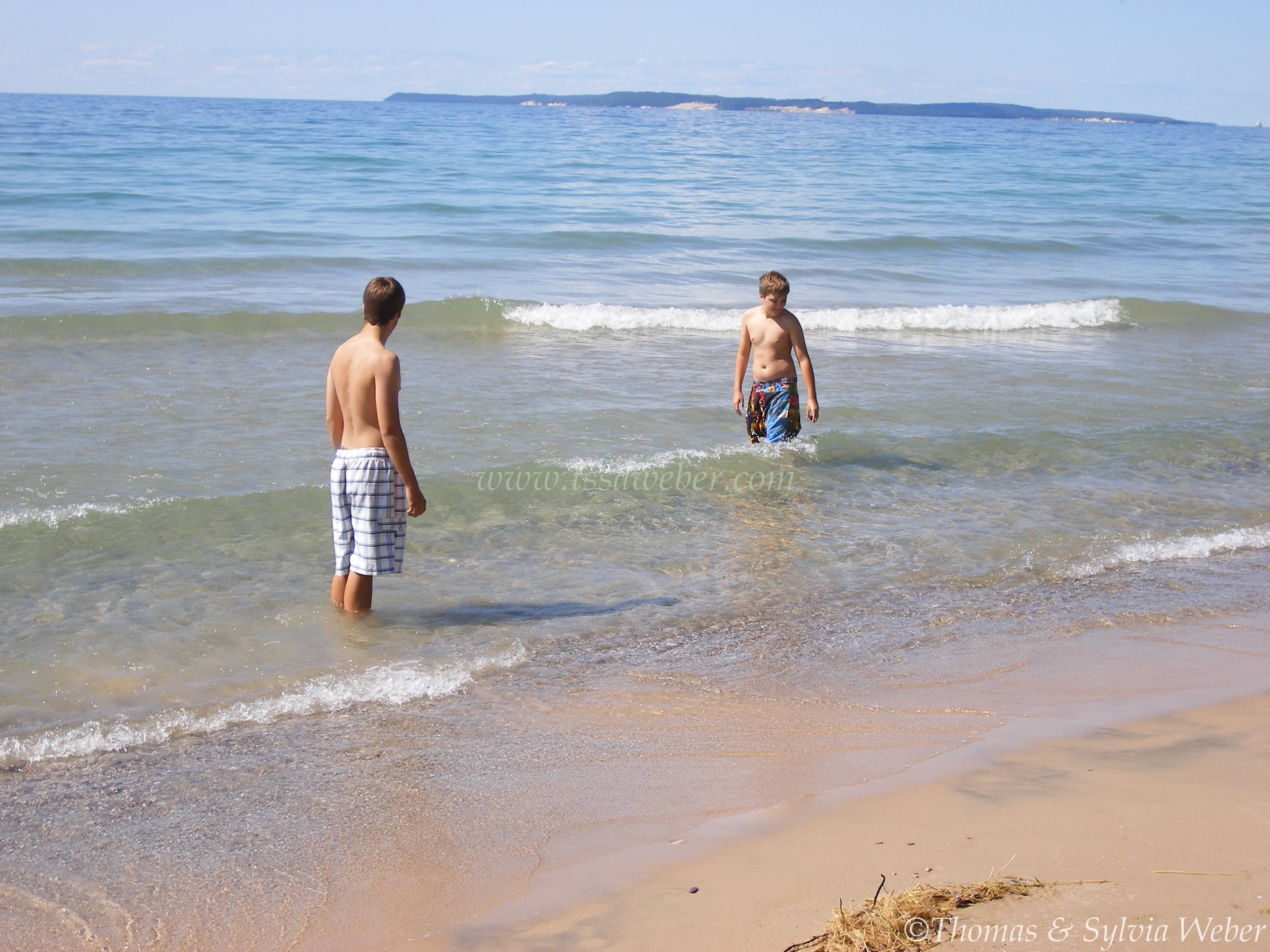 Monday, 8/3/2009
Today is a camper day because it is raining and cold. The farmer from which we bought sweet corn told us that in the early morning we had 1 and ½ inch of rain within just one hour. BTW there was a huge difference between this sweet corn and the one we get from Tom's Farm Market. Even Andreas and Stephan made comments that this corn is not what they are used to eat.
Tom's Farm Market & Greenhouses
Later in the afternoon Stephan and I went exploring. We found out that our campground was very close to two other famous rivers, the Manistee and the Boardman. For the Manistee we were already too far downstream. It was too big, not wadeable anymore and discolored from the rain, so we turned our attention to the Boardman and a stretch of water that exits a lake, so the rain had no effect on the clarity of the water. We found a place with lots of riffles, strong current and crystal-clear water. We decide to fish this stretch on Wednesday morning before we leave this area.
When we came back I had a lot of difficulties to get our campfire going, the wood was a little bit feucht and the logs were too big for the fire pit of this campground. But in the end we all had 2 corns on the cob and a "butterflyed" pork steak marinated al Bongo. It was very good. But it took a while to get there. We talked about how nice it would have been if we had one of this Blowtube Opi has at the Bächau to get the fire going. Our steaks would have been grilled in half of the time. But……..
Opi with little Stephan, at the Baechau
Sunday, 8/2/2009
Today will travel to a KAO closer to the Sleeping Bear Dunes National Park, but before that Stephan and I went fishing early in the morning.
The spot we picked is at the North Branch of the famous Au Sable. When we walked to the water I was very careful. The day before when we recognized the spot, I nearly stepped on two wrist thick snakes. I was only in flip-flops and I guess lucky that I missed them. We don't know if the snakes were poisonous as we did not see them long enough to determine this and had no desire to get closer.
The spot we picked didn't turn out to be a great one and in the middle of the morning we changed to another location we knew from a visit a couple of years ago. But also here we didn't catch anything.
The travel to the KOA in Buckley was uneventful and only 160 miles. It took us a little bit more than 3 hours. Andreas and Dylan traveled again in the trailer or more precise they were still sleeping when we left Gaylord. They enjoy this very much as it is fun and probably more comfortable than the car. When they get up they can play their video games, game-boy or on the laptop.
Saturday, 8/1/2009 , 10:45 pm EST
Stephan just reminded me that we are on the 45th parallel, that means we are exactly in the middle between equator and north pole. At least the mosquitoes are not as bad as they are if you are above the arctic circle.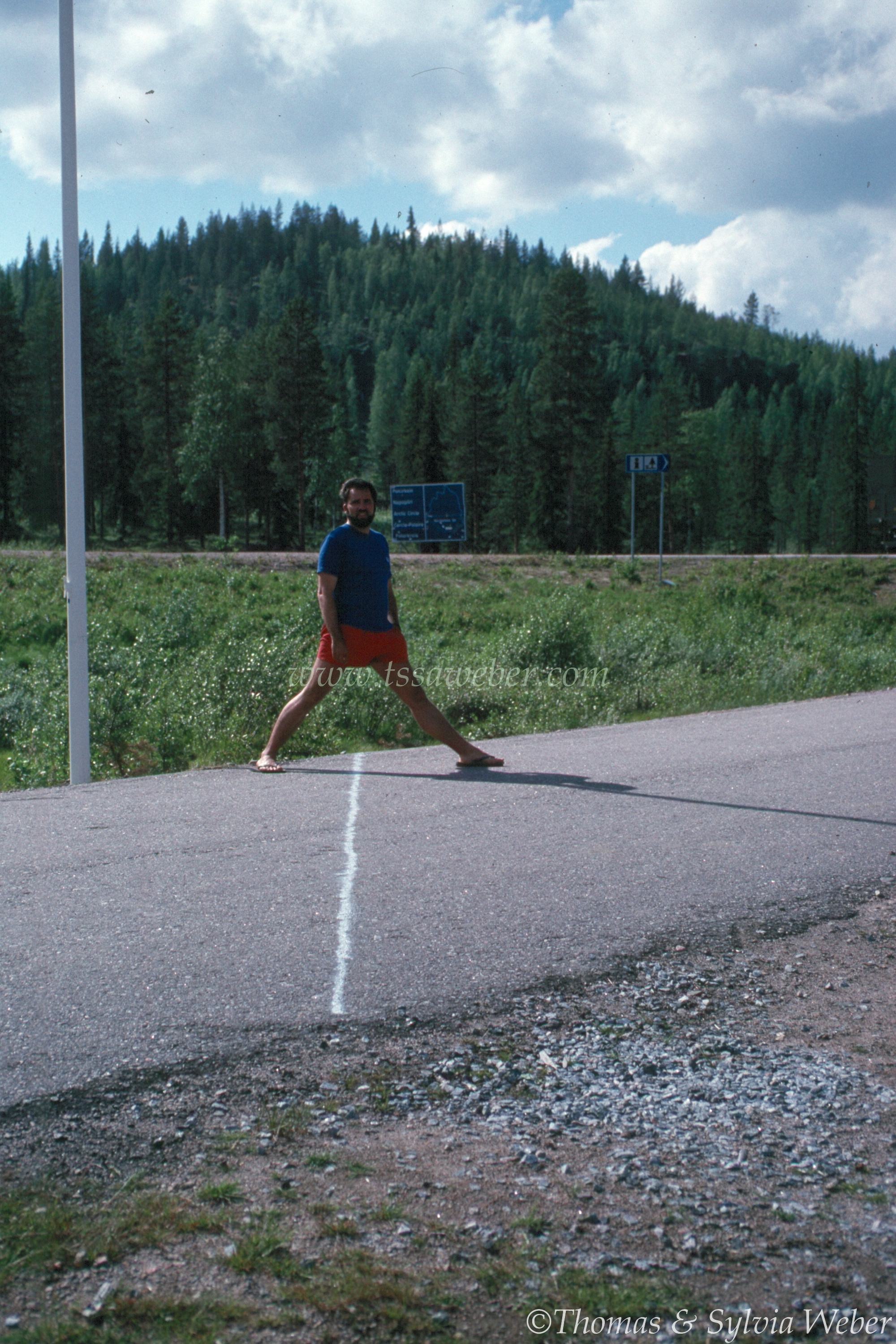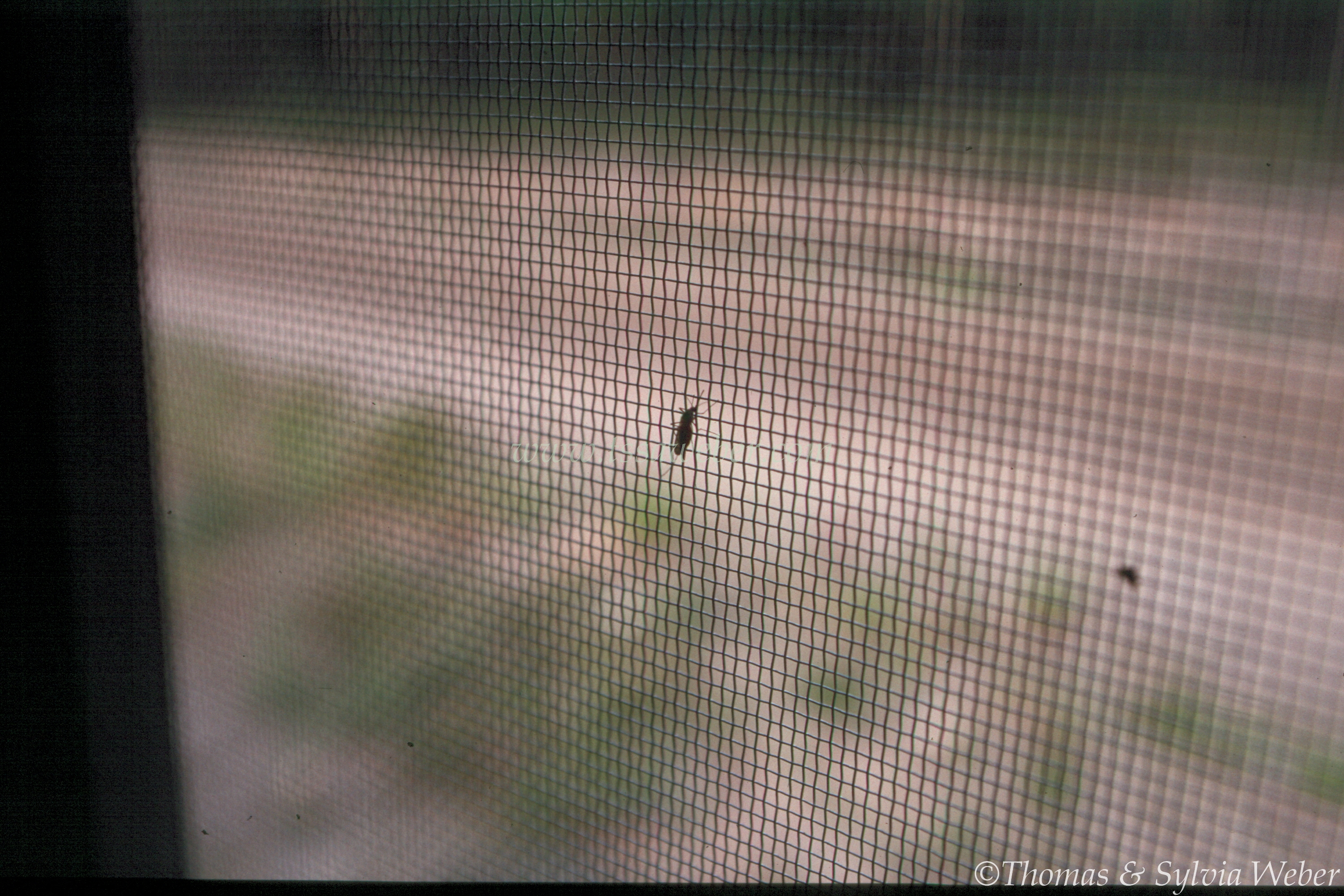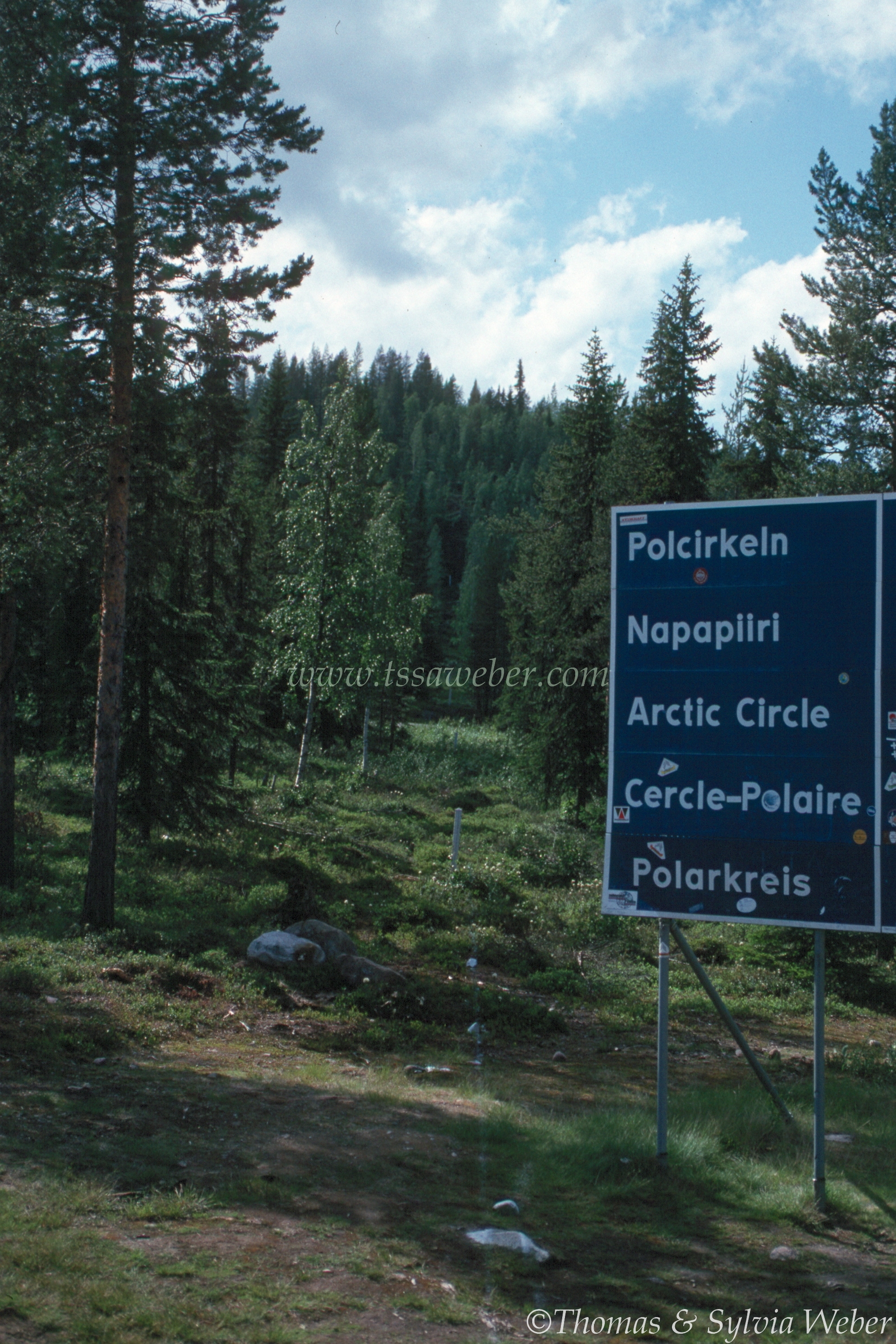 Saturday, 8/1/2009, 01:15 pm EST
Today is Switzerland equivalent of the U.S. Independence Day. If the weather permits we will for sure have a good camp/barn fire and a couple of brats. Unfortunately we do not have any Cervelats, St. Galler Bratwurst or Chloepfer. We have to go with Wisconsin brats.
We are the second day in Gaylord in a very nice KOA
It is still cold up here. On our first night we had rain, yesterday was a little bit warmer and sunny and today it is again colder and just started to rain.
With so many famous trout streams around us we had a difficult time to decide very to go for our first evening. We decided to visit the Sturgeon because we have seen this river from the freeway and it looked really nice.
After finding the spot our famous book indicated, we started fishing and caught a couple of little rainbows. But soon our fishing freedom got disturbed by a group of paddlers coming down the river. Fisher and kayakers/tubers are not matching very well, especially as we fishers pay a lot of money to fish and the other group pays nothing, but still believes they own the river.
But again old resentments from my days fishing the Loisach, close to the Zugspitz im Tirol.
My web search shows that the hotel Drei Mohren is now Hotel Mohr Live, but the Loisach is still part of the property. Maybe one day we will fly- fish and battle the kayaker again. (Appetizer: smoked rainbow trout, entrée: Gamsrücken Tiroler Art)
So we ventured further up the river, no path and a lot of brushes, but to make the story short, we both went "swim-fishing" a little and Stephan broke his reel.
On our way back to the campground we saw a stretch of the river which looked very promising. Something to do for tomorrow.
Back at camp we couldn't light a fire because it was now raining. So we had a trailer cooked meal, Fettuccini al Bongo.
The next day we had first to find a replacement for Stephan's reel and had also to repair Andreas' bike. Both was easy and the shops were close by.
Stephan and I went fishing agianthis time at the new spot. We adapted our look to the "swim-fishing" approach, it is easier to walk /wadethis way instead with hip waders full of water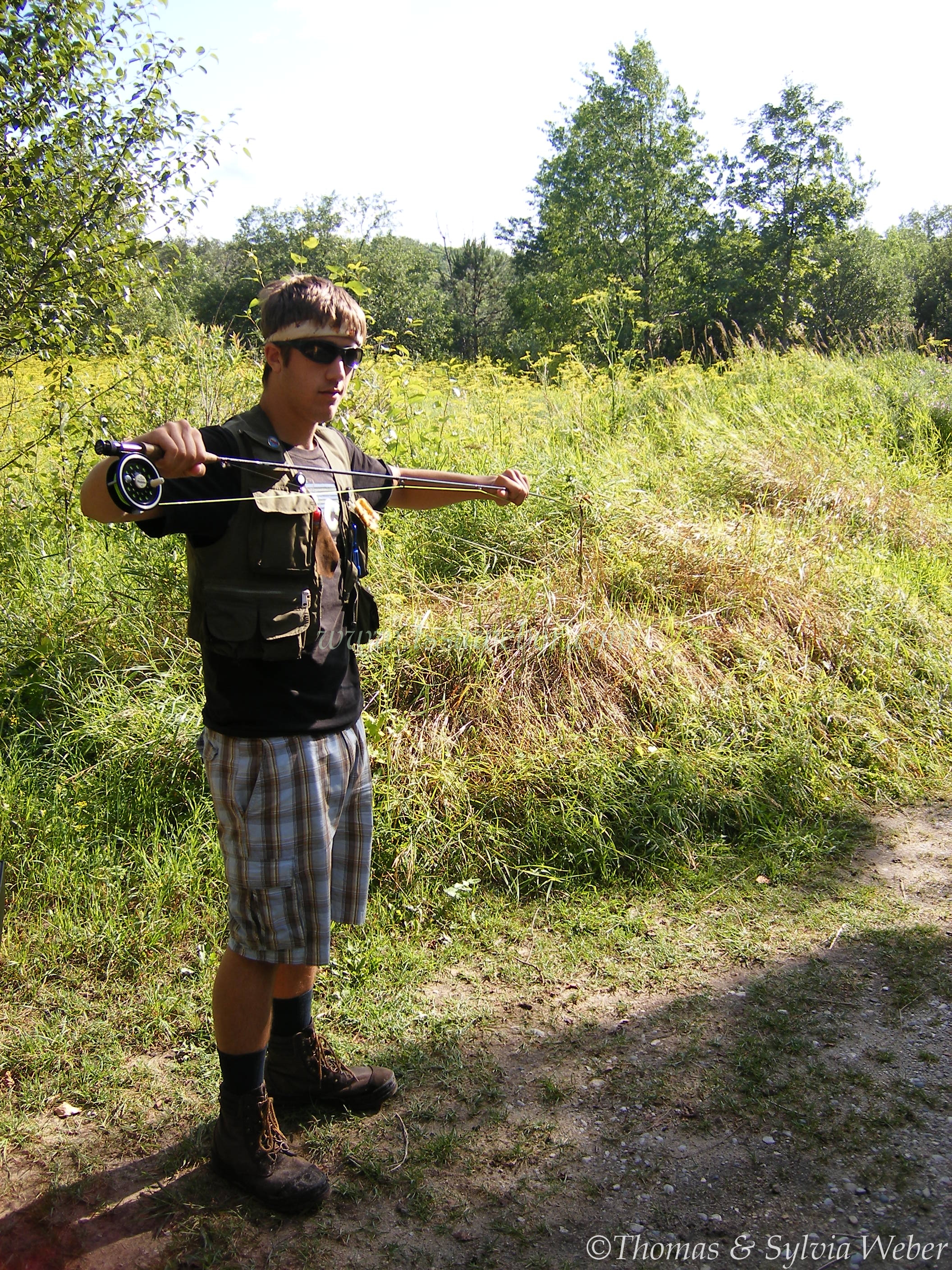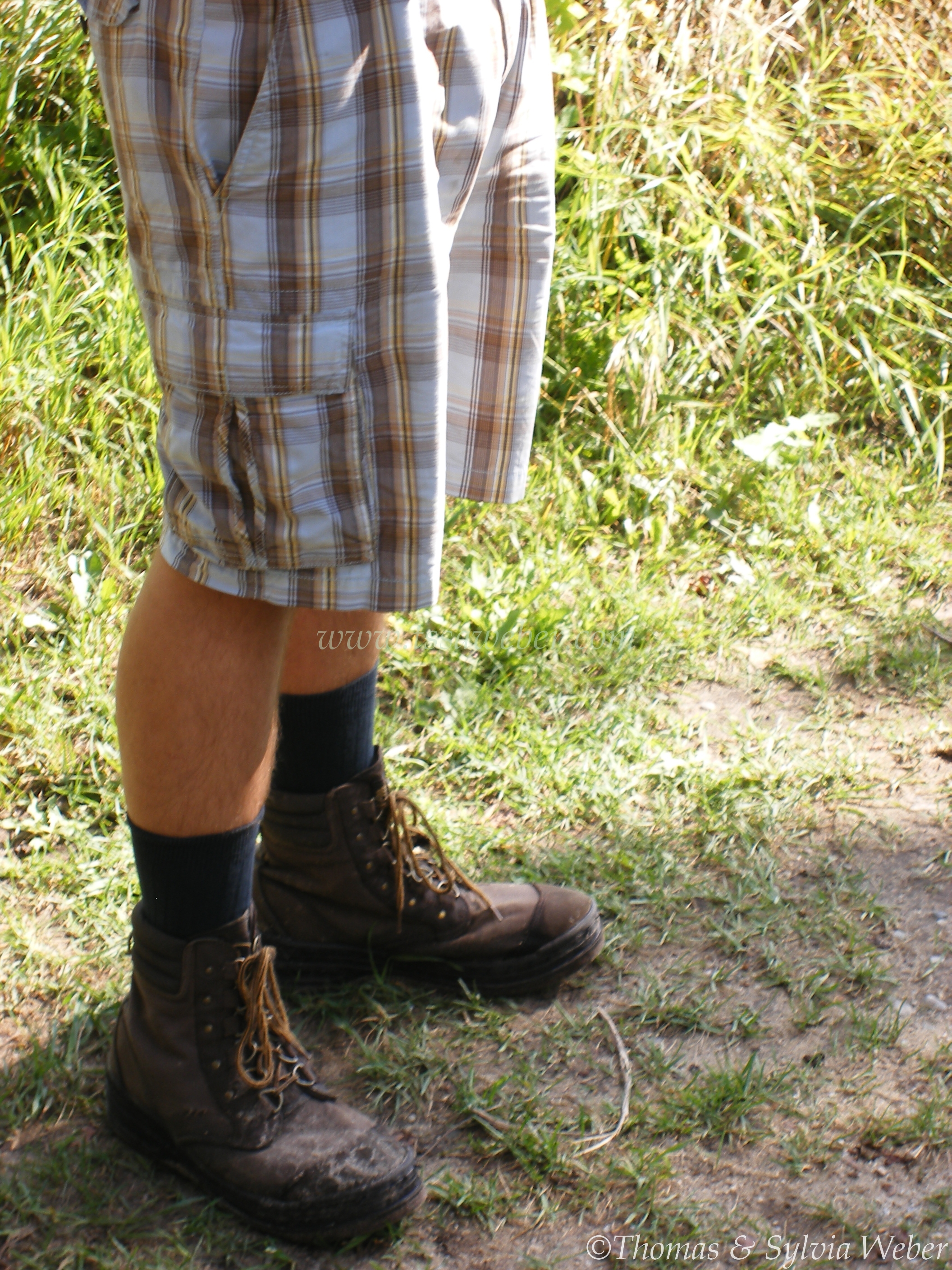 Fishing was good, the stretch of water is beautiful but also the kayakers had a great time.
Coming back we drove through the Pine River Wilderness State park to see the Pine and the Black river. This state park is not only huge but also extremely beautiful and isolated. We've seen multiple very nice rustic campgrounds, a herd of Elk and both rivers look promising. We look forward to fish here and also maybe to come back.
Today it is raining and it looks like we will have a camper day. Unfortunately there is not much to do here other than hiking, golfing or fishing. Al this activities are more enjoyable when it is not raining and warm.
Thursday, 7/29/2009, 10:00 am EST
Today we will leave for Gaylord, MI, where we found another KOA campground. We like the KOA franchise, because we know what to expect and hopefully we will once own one, when Sylvia and I are retired. But most importantly they have always wireless access. This is important to connect the three laptops, the two game-boys and the IPod Touch. It is interesting to see how camping changes when the kids grow older, but it is also convenient for me to have access to the internet.
Stephan and I are looking forward to our next stop, because this places us in the middle of the headwaters of 4 famous rivers, Sturgeon, Pigeon, Black and the most known of all the mighty Au Sable. With this setup even we, the dry fly purist we are, should be able to find a spot to catch some fish. We will see.
The weather forecast for Gaylord is good and it will be much warmer, around 80 degree F, than up here in the Upper Peninsula.
Thursday, 7/29/2009, 8:25 am EST
We had beautiful weather for our trip to Mackinac Island. The jet-boat was fast and luckily the waves were no to big.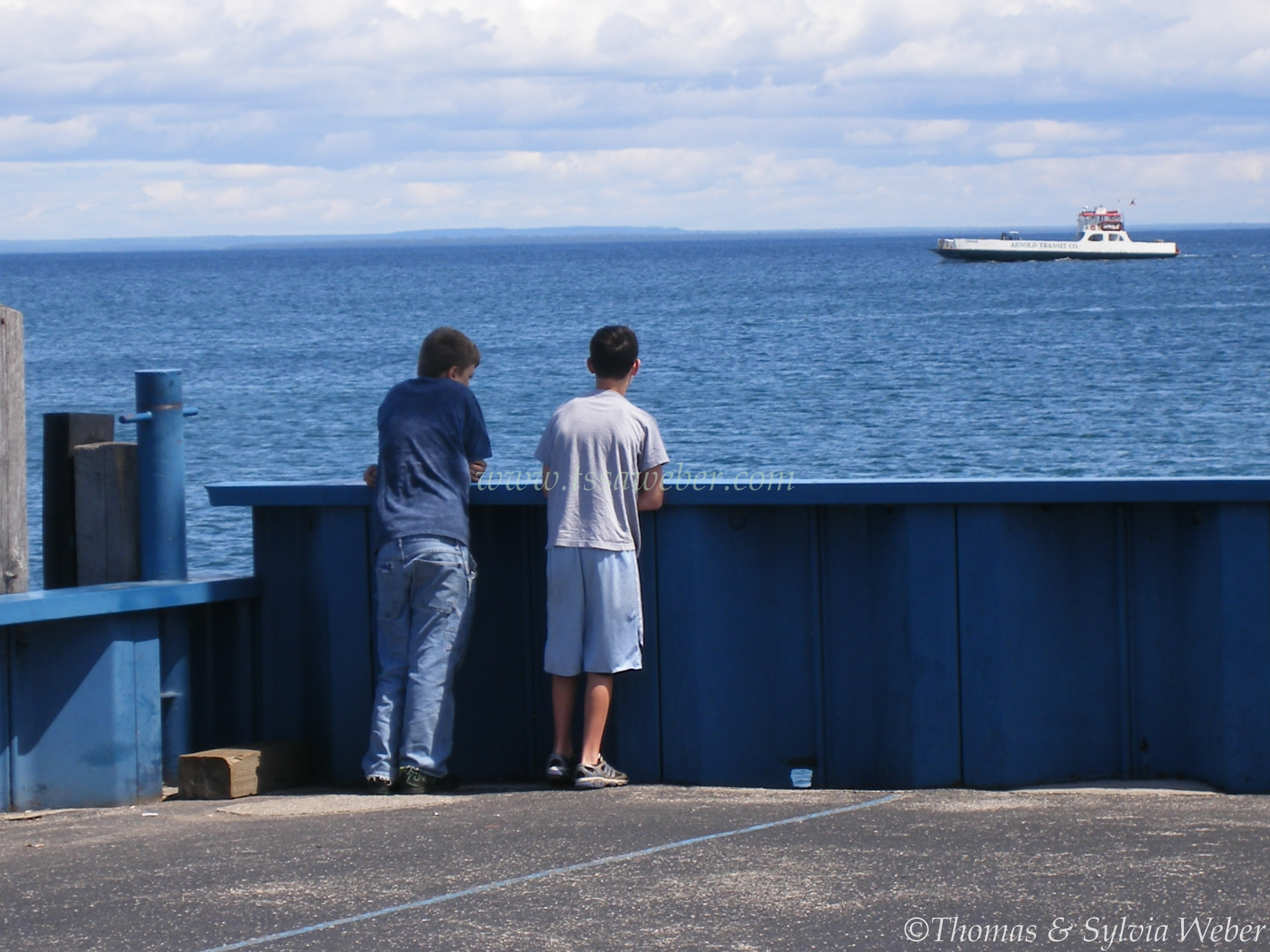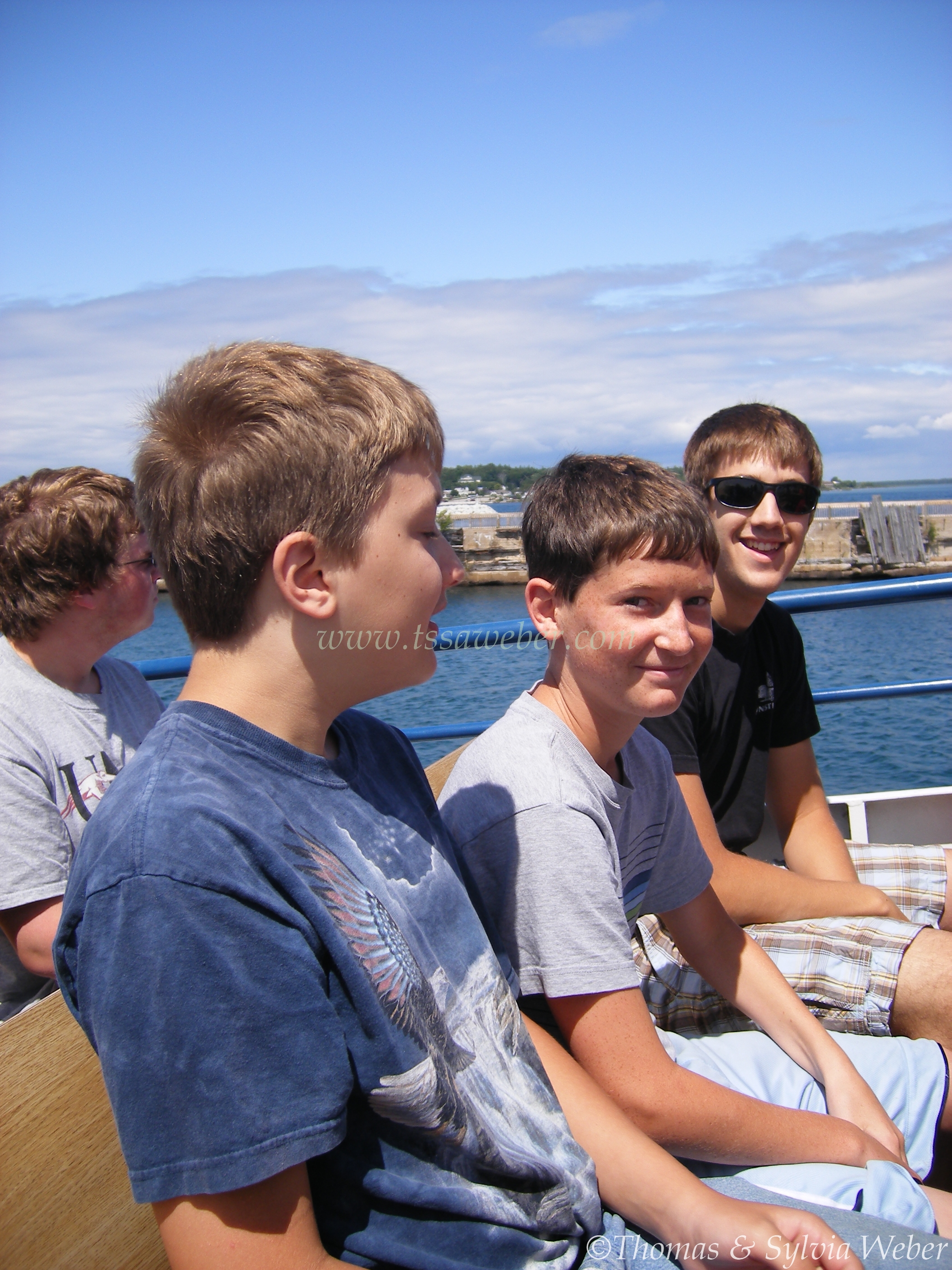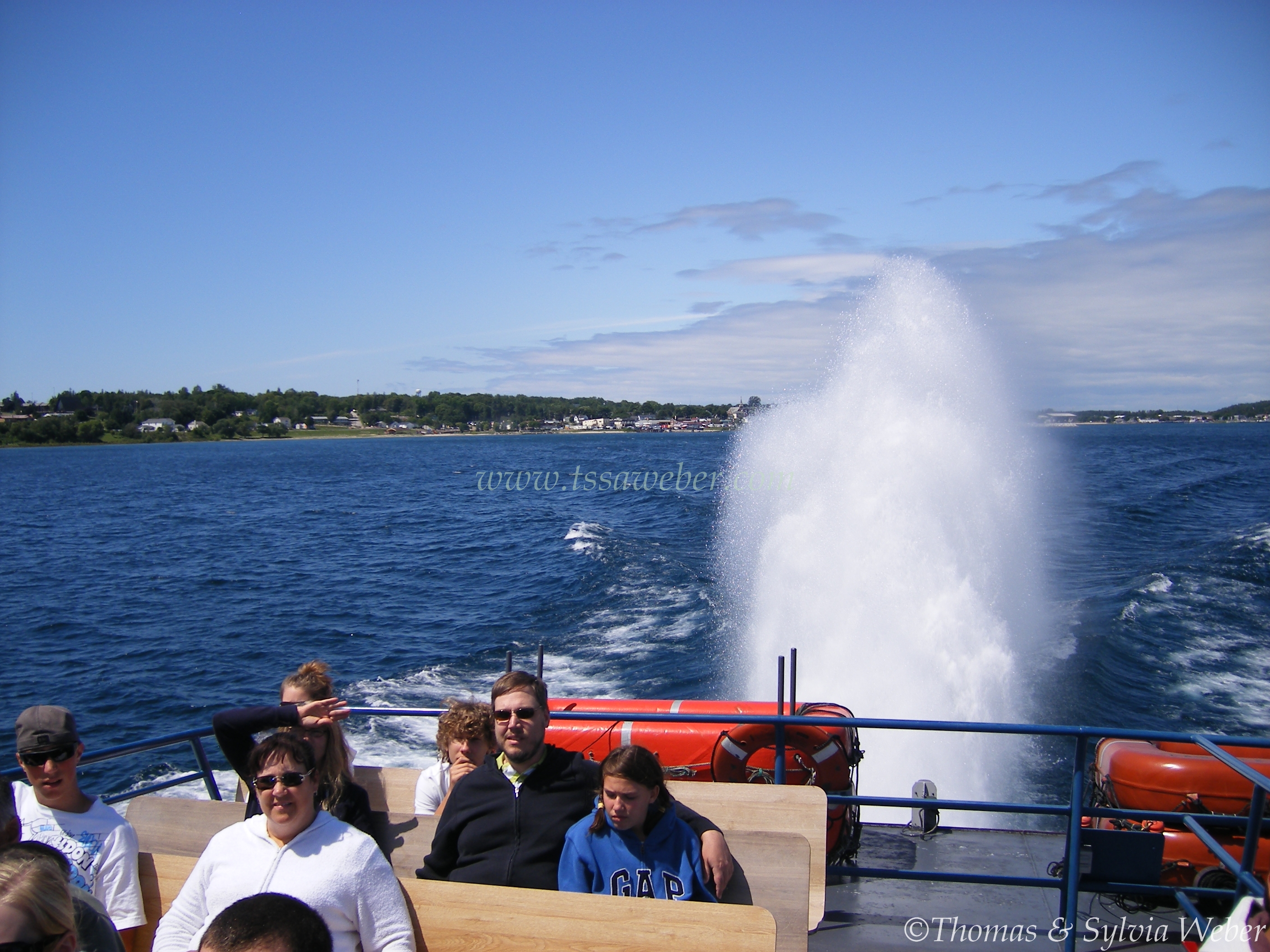 The lake had a wonderful blue color and the Mackinac Bridge was in clear view. The waters on the picture belong already to Lake Huron; on the other side of the bridge is Lake Michigan.
The Island is very touristic, one of Stephan's friends
comment was: Per one Mackinac Islander you have 9 tourists. They sell a lot of fudge and you can watch the "confisseur" making it.
When we came back the winds were much stronger and I could hardly stand to make pictures.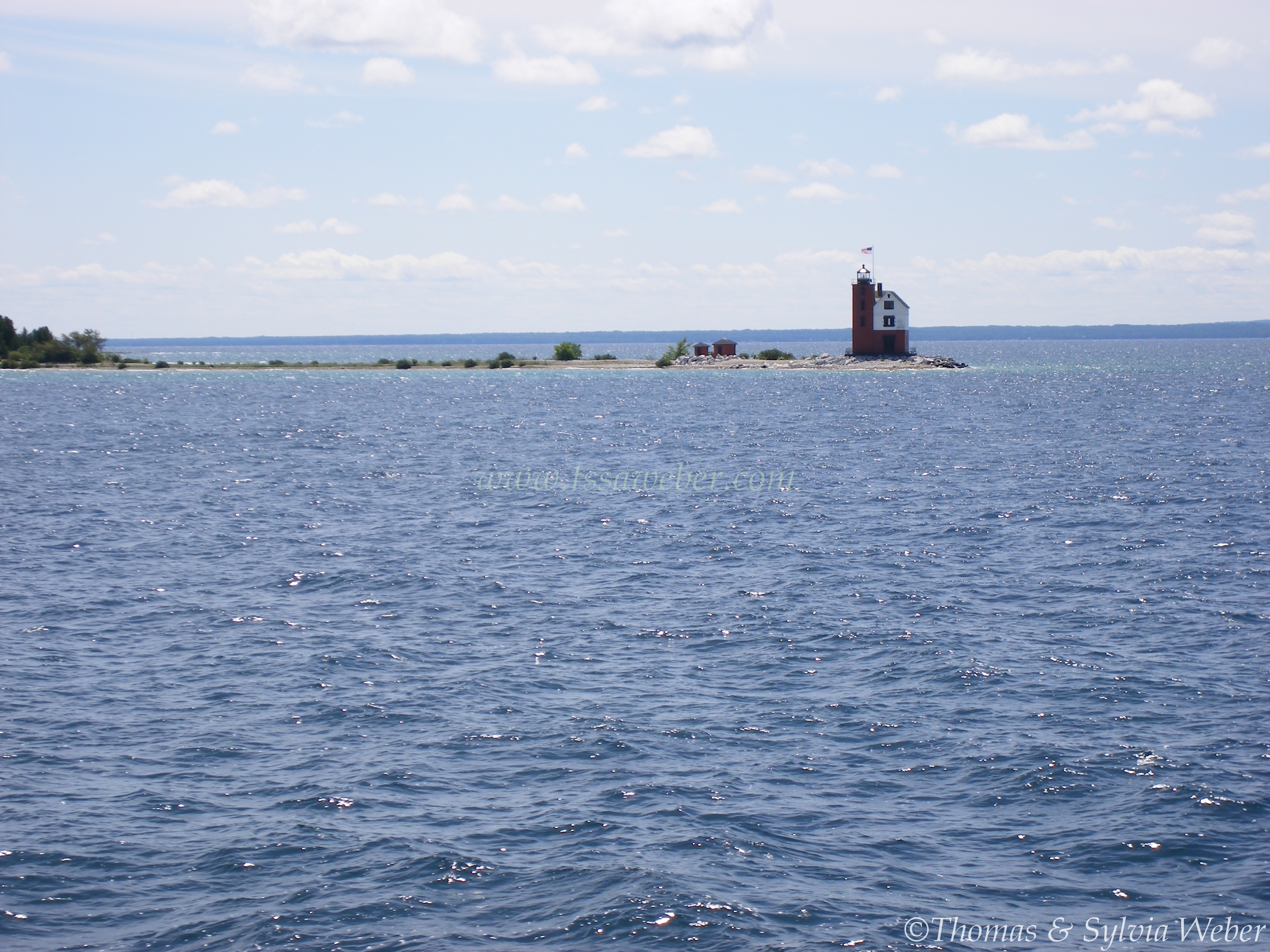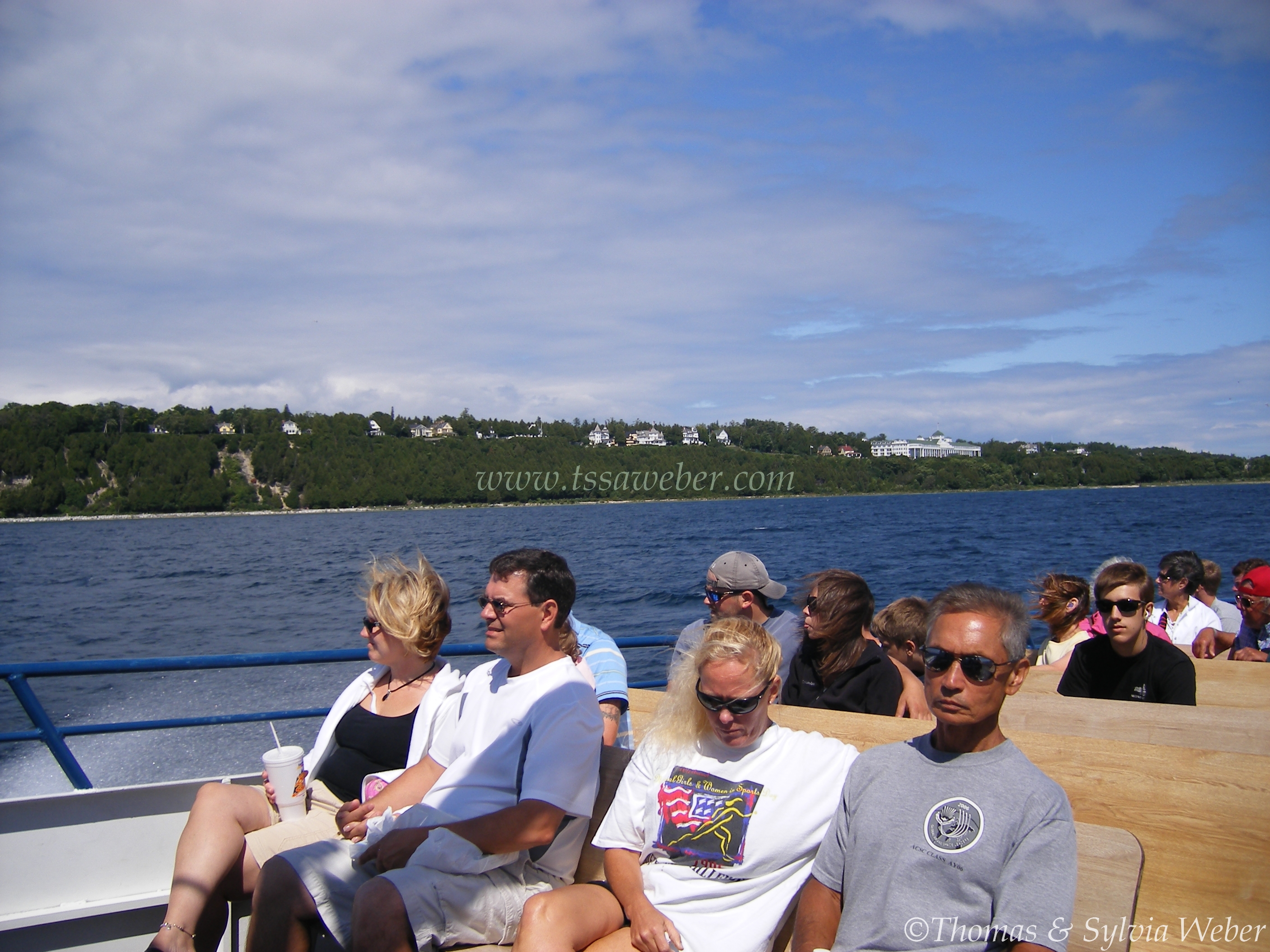 In the evening we started our campfire. We bought four Marshmallow forks so we could make S'mores, but we realized that we can also grill sausages all in all a good buy.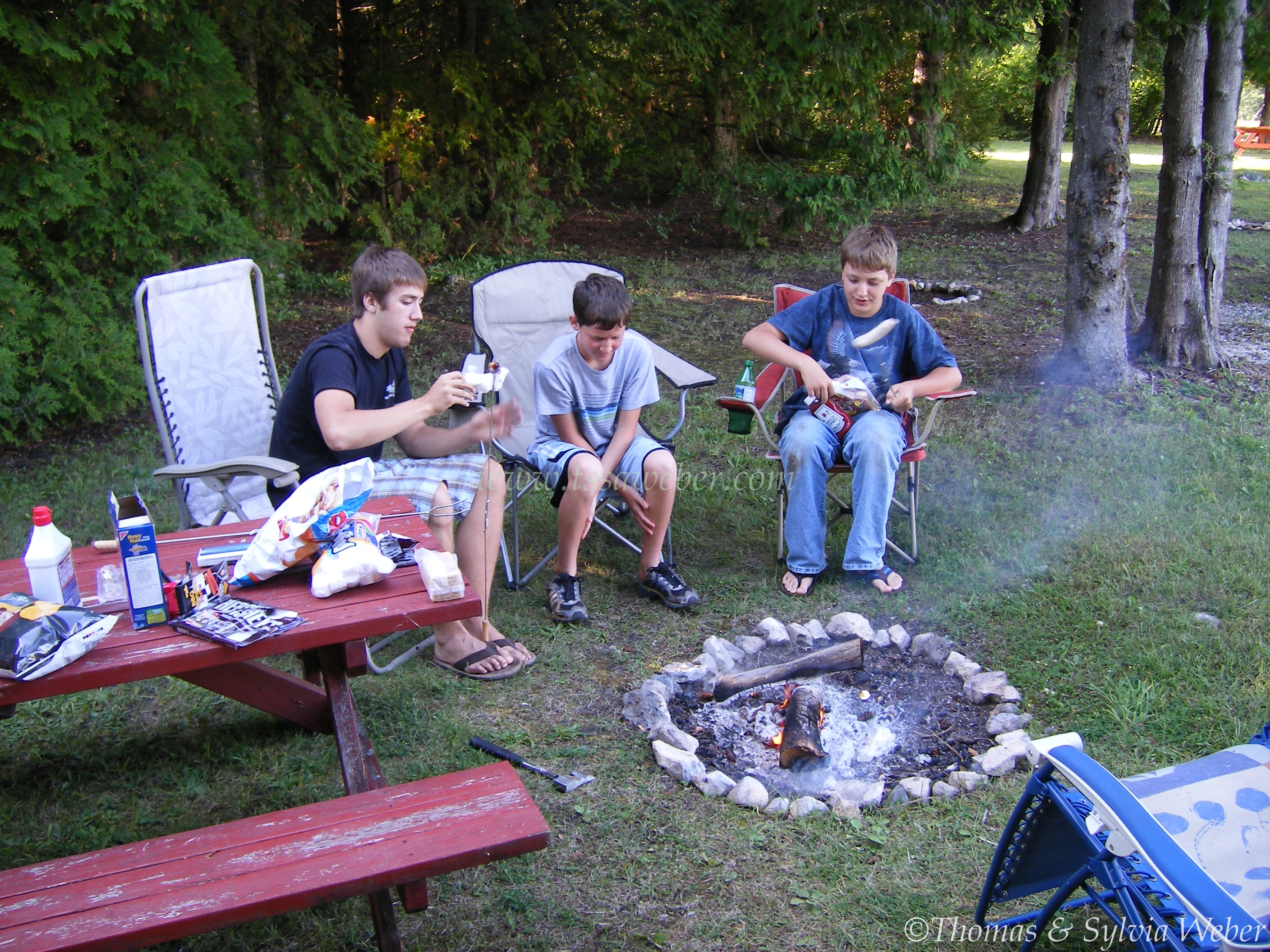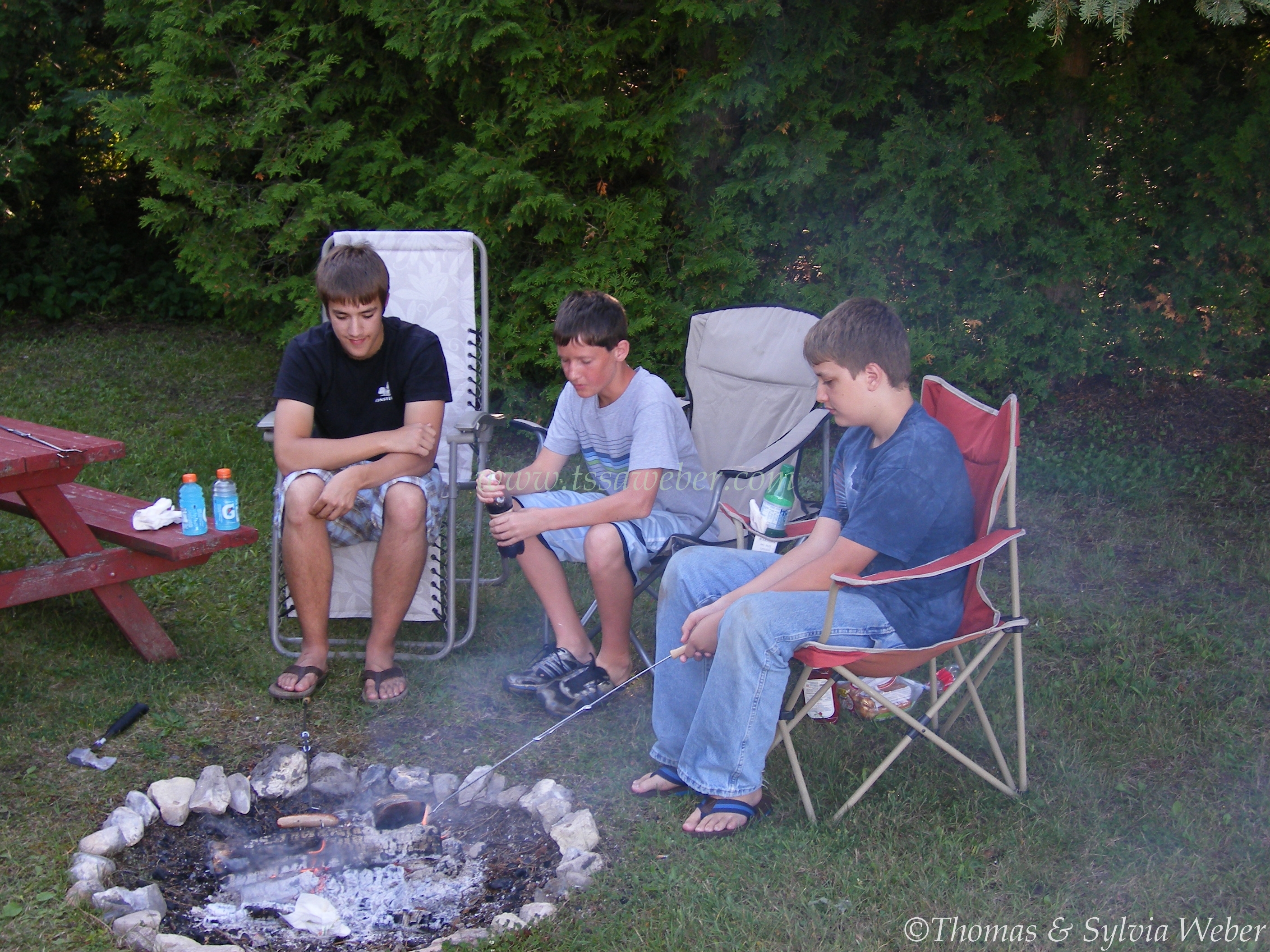 Memories came up when I've seen the seagull on top of our trailer and we chased it away immediately.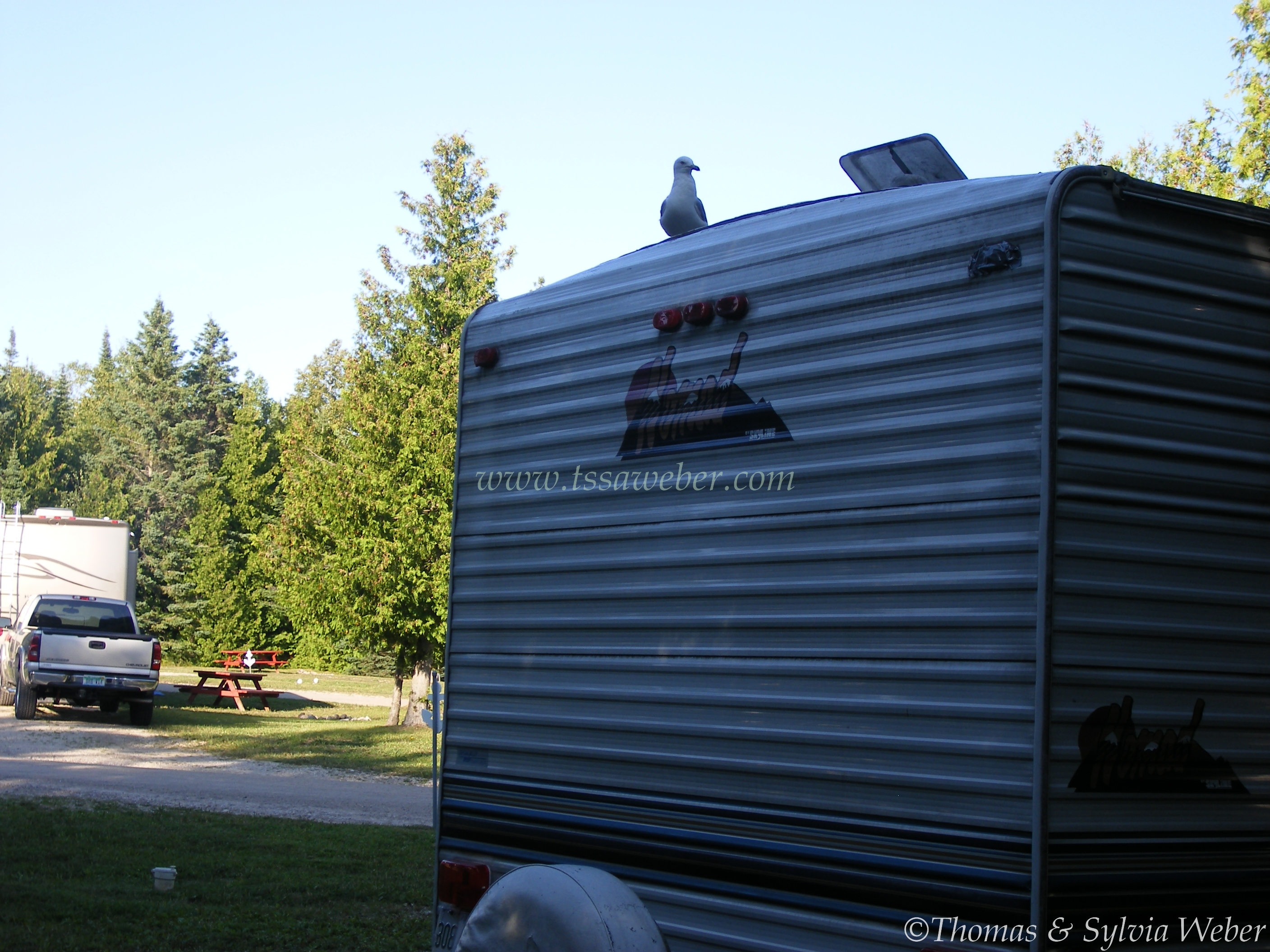 A long time ago on our trip in New Zealand, we thought this Kea's are nice and funny birds so we did not scare them away.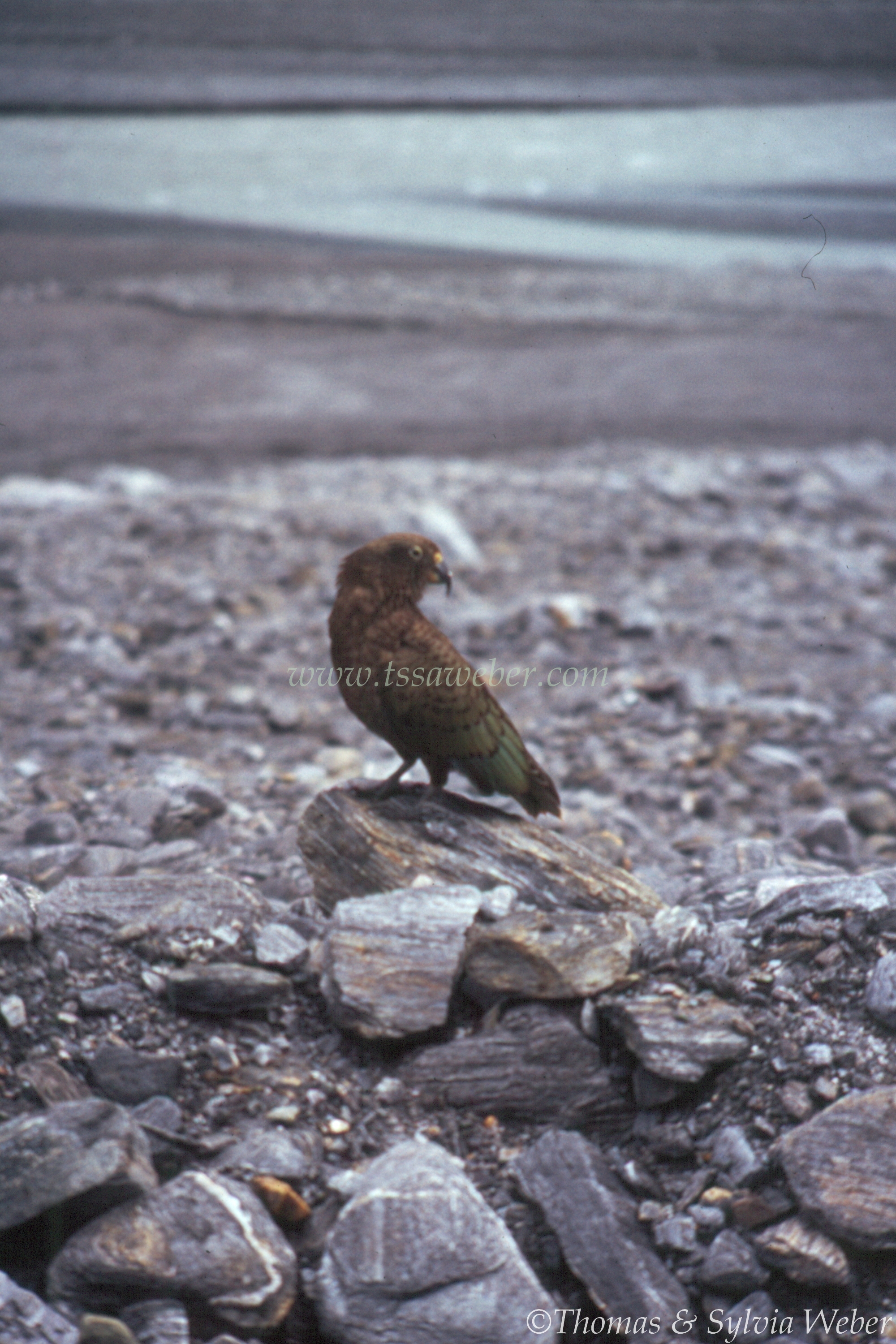 We didn't realize that they were ripping out the seal of our roof vents which created all kinds of problems afterwards.
Only later we read that these Keas are a realnuisance. Because tourist feed these birds they get used to humans and playful as they are when they are bored, they started to rip out seals from car windshields. There is a good chance coming back from a hike on the glacier that the entire seal from your windshield is gone, not a good thing in this remote areas.
Wednesday, 7/29/2009, 09:20 am EST
The travel trailer is still quiet, all the boys are sleeping. Today we decided to visit Mackinac Island, just a little boat ride away from St. Ignace.
Our beautiful fly-fishing river was a huge flop. Even though two independent books describe the river great for the fly, we both would not subscribe to this. The river has a sand/silt bottom, the water is not clear and all the riffles, ripples, gravel bottom and boulders they are promising, we couldn't find, even with having access to the river multiple times and driving again nearly 60 miles. Unfortunately it is not the first time that we make this experience and I'm glad that Stephan understands the books the same way I do, so I know it is not me………..
Tuesday, 7/28/2009, 03:15 pm EST
We arrived in St. Ignace KAOCampground, the same we stayed with our friends, the Hug family in 2000.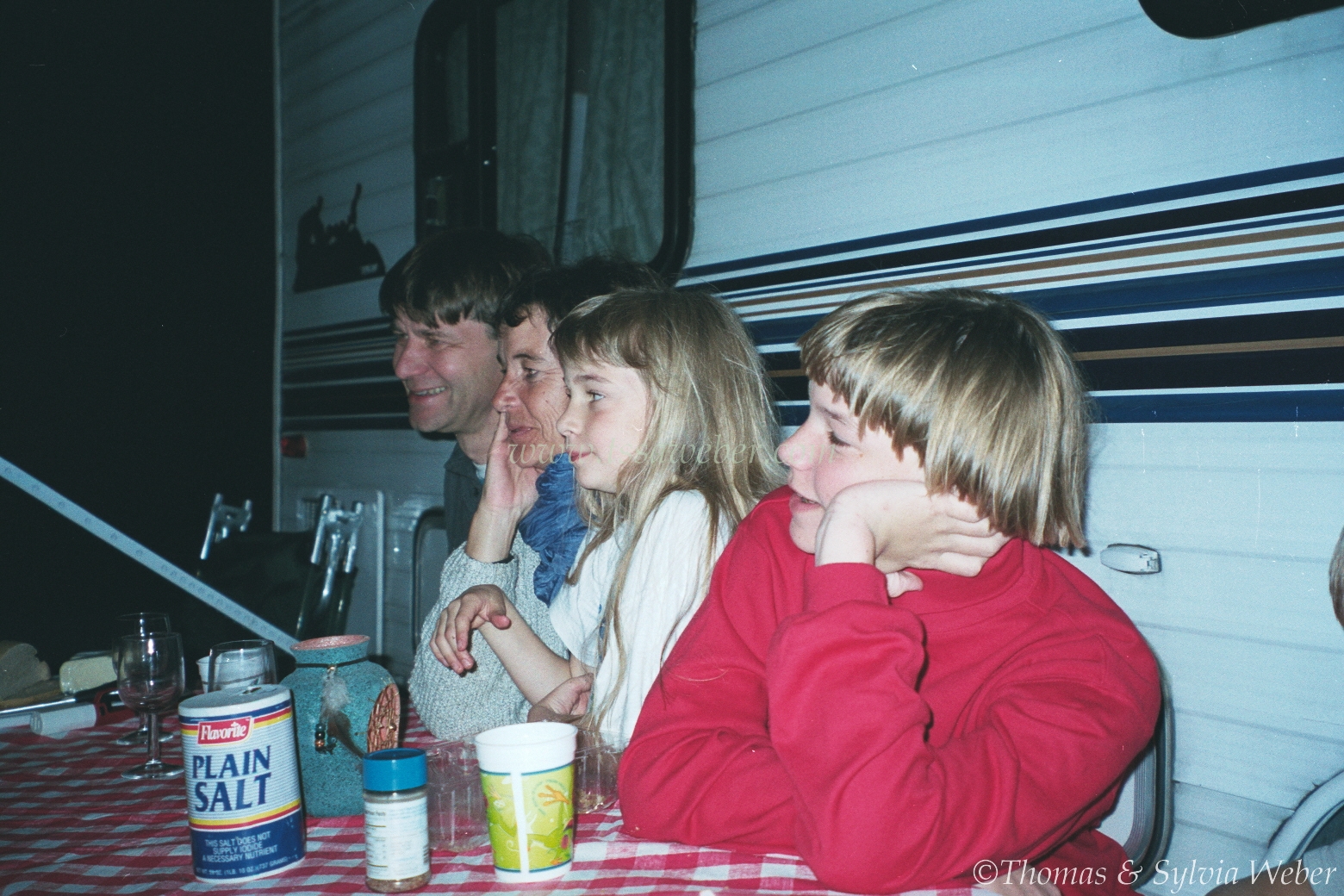 Part of the tree was in the way of our awning
The camper is already set up, we havea very nice site in the shade, the jacks are gekurbelt water and electricity is hooked up, Andreas and Dylan already played a round of mini-golf.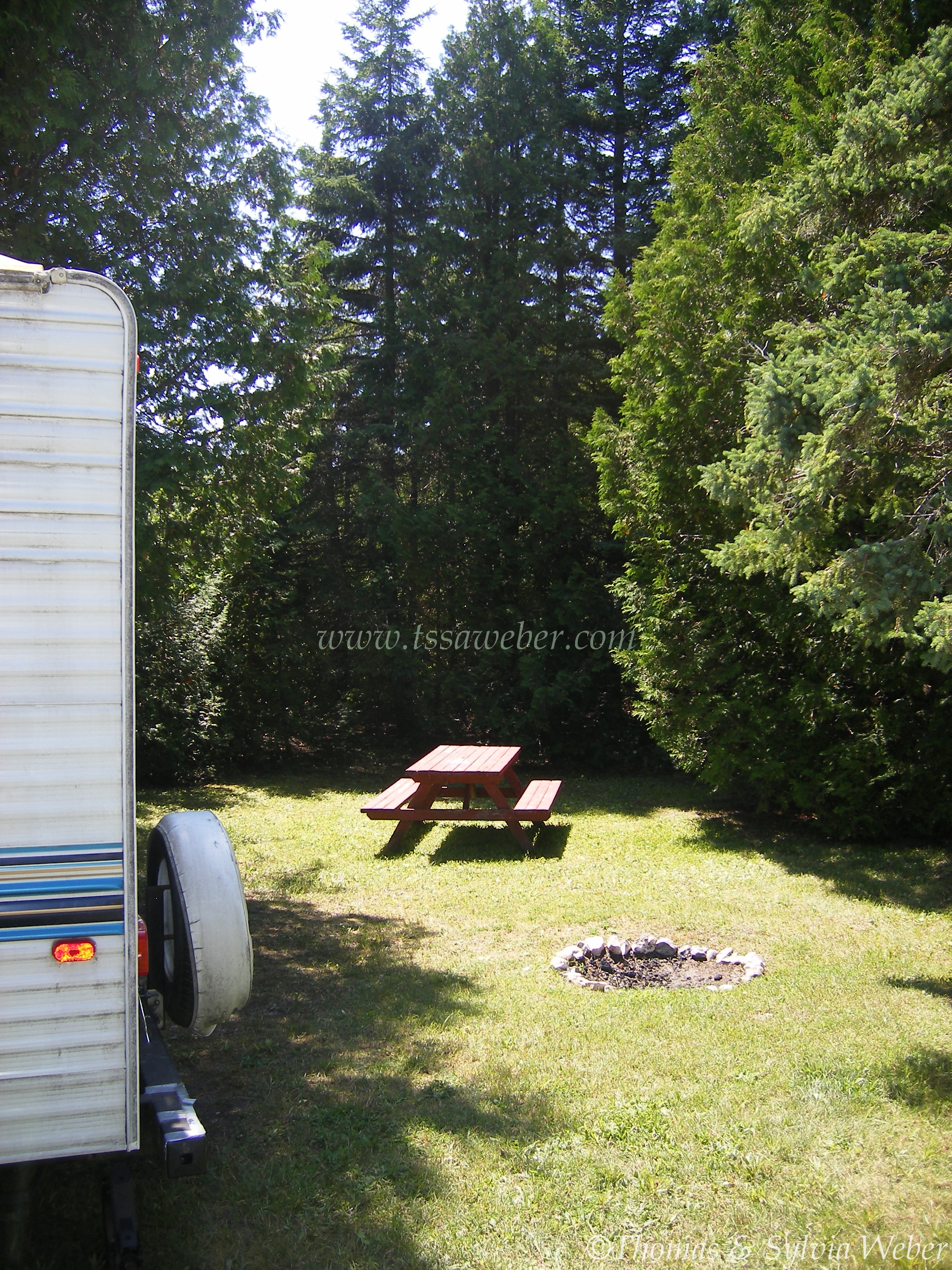 The 218 mile trip today was uneventful, just a couple of construction sites. But the road otherwise was very good and nearly no traffic. The road also borders the lake and was very scenic.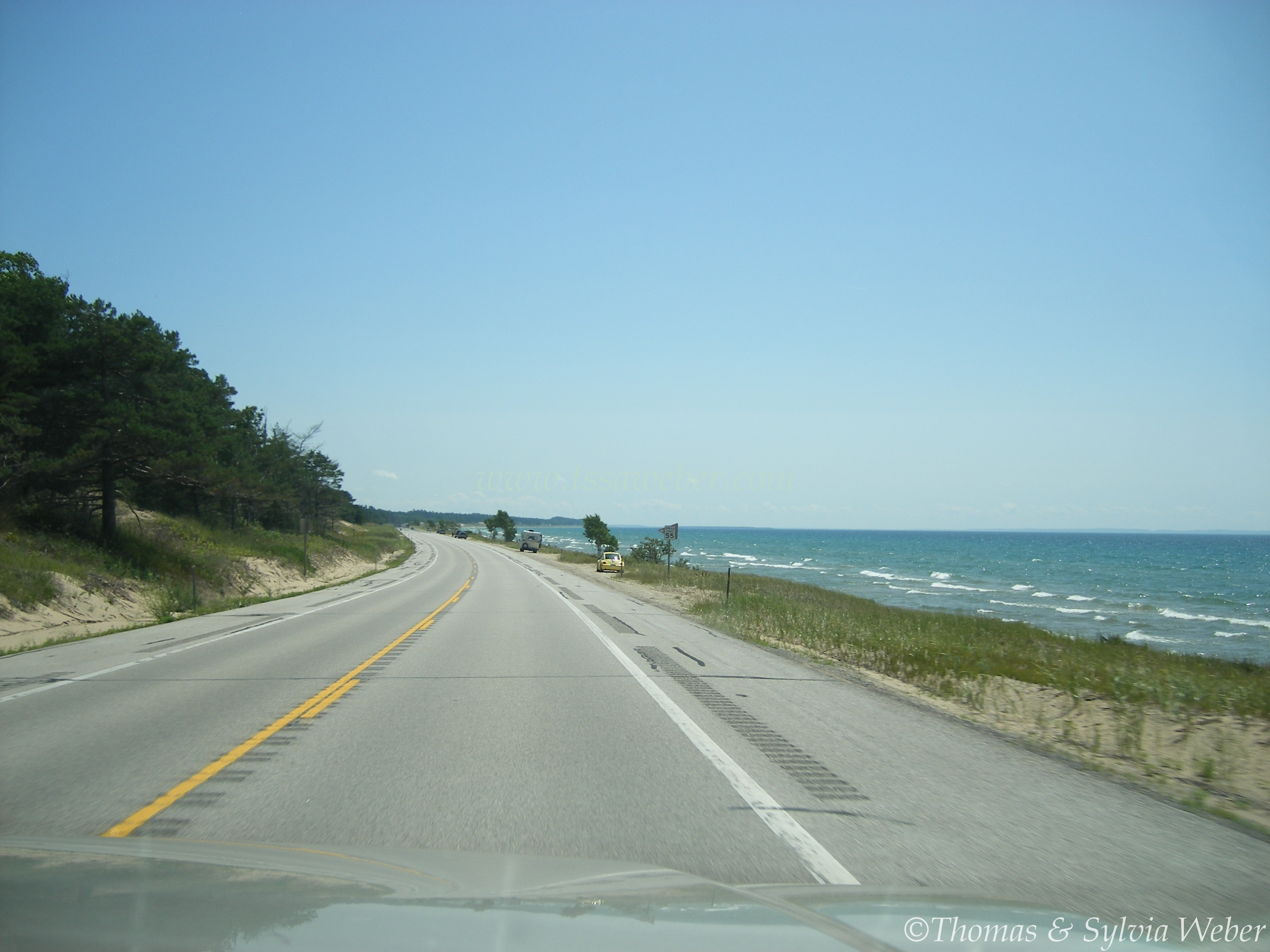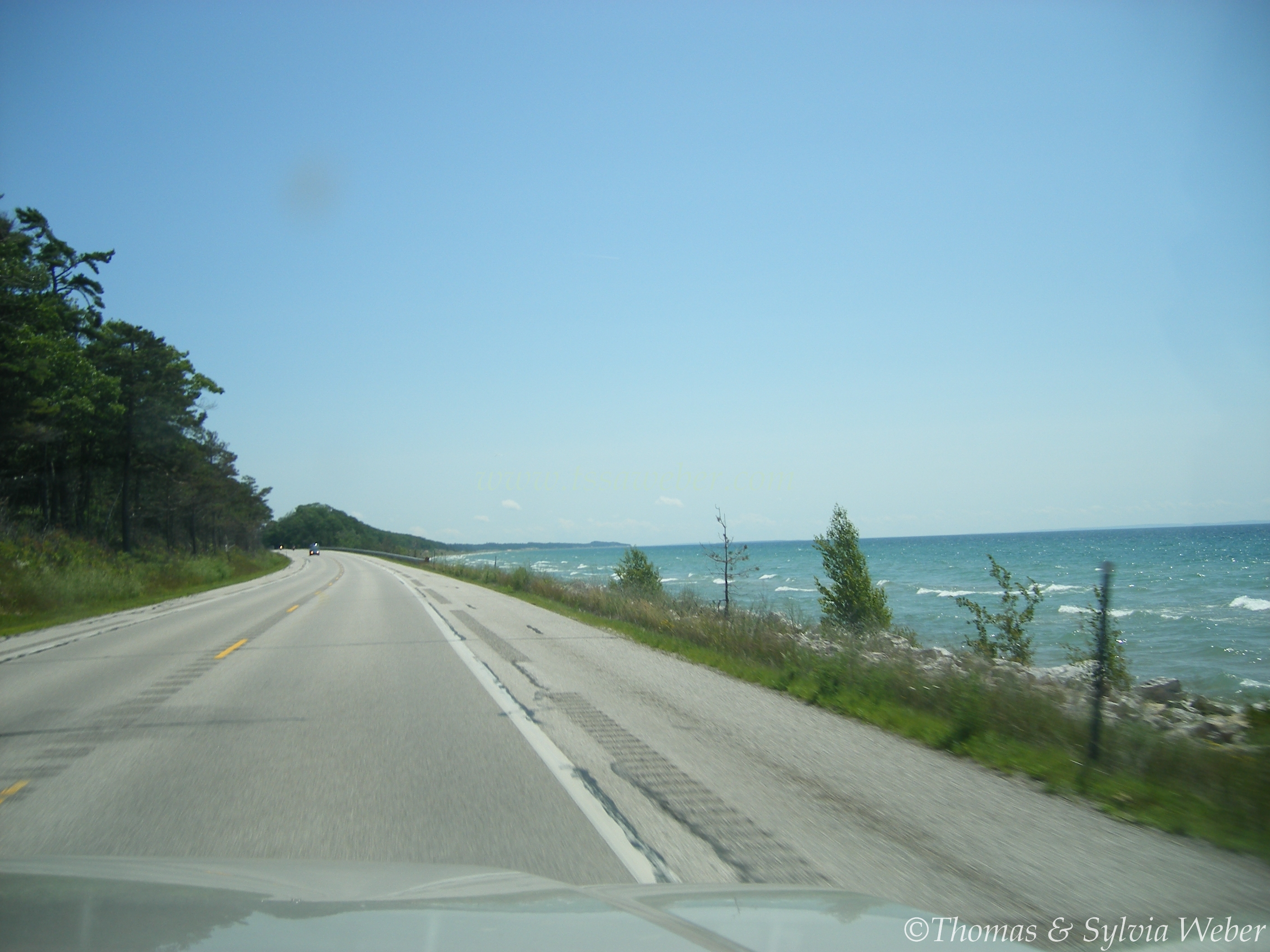 Andreas and Dylan traveled in the trailer and Stephan and I drove. The "little" guys enjoyed that tremendously and Stephan and I too.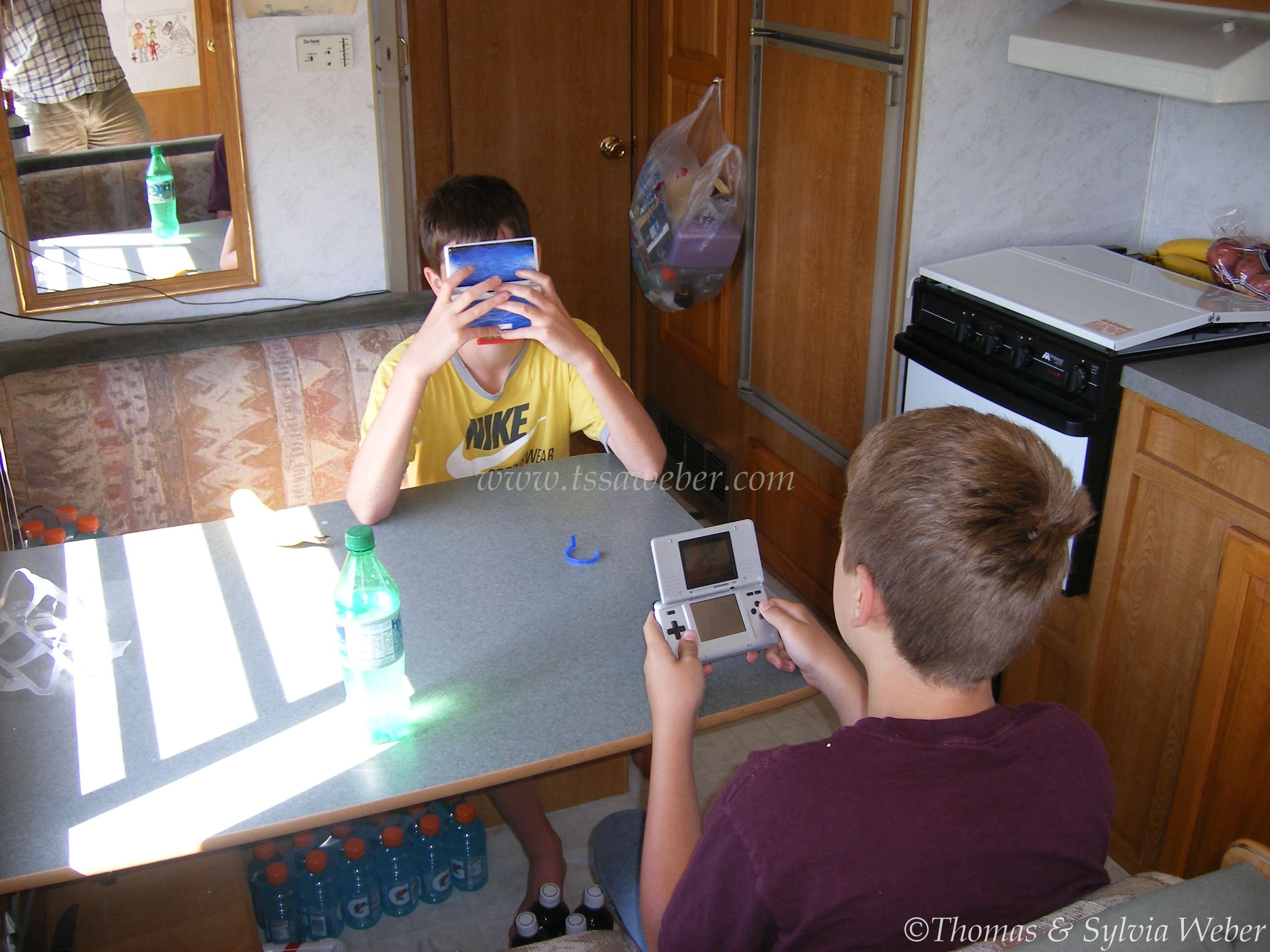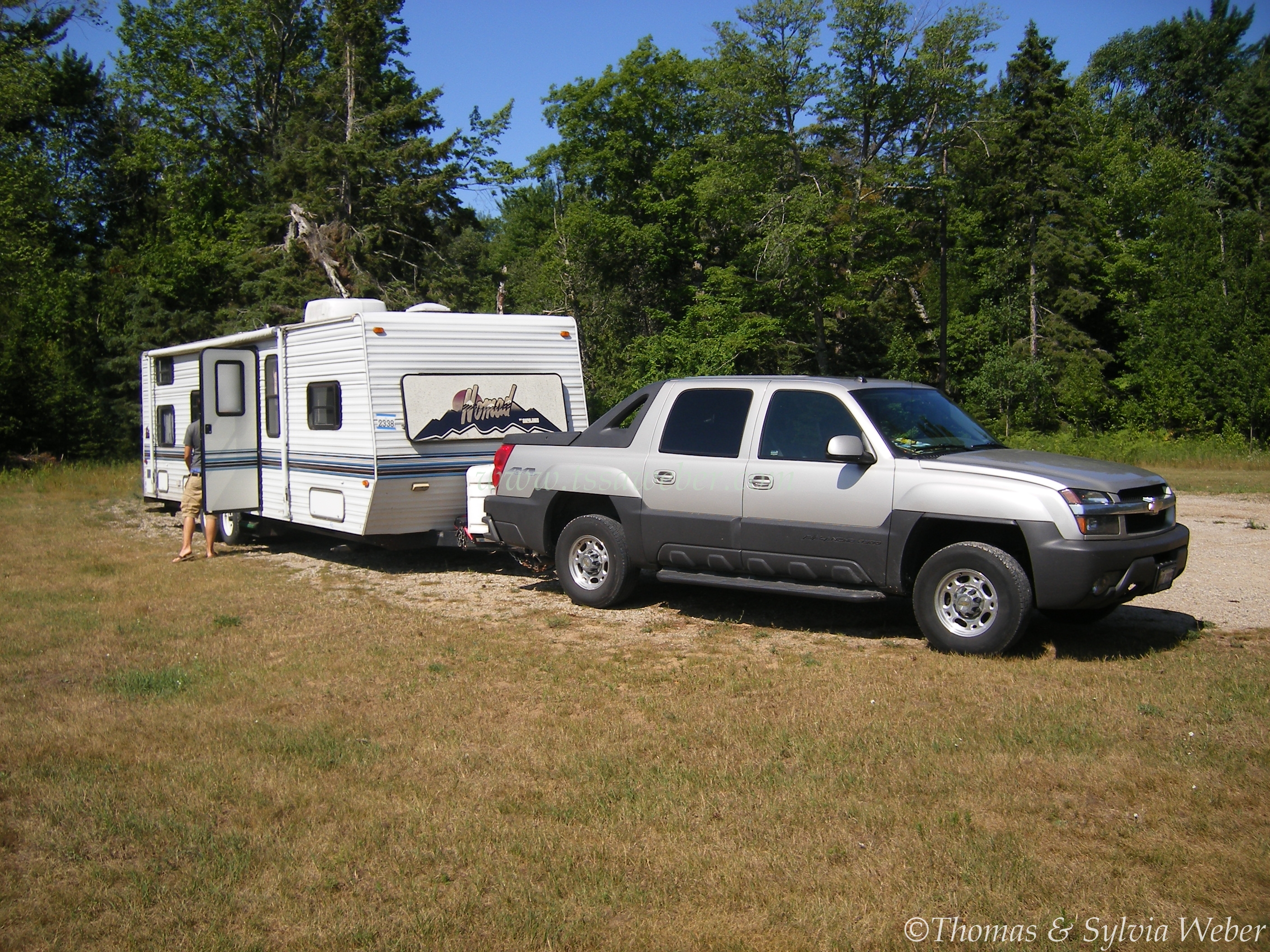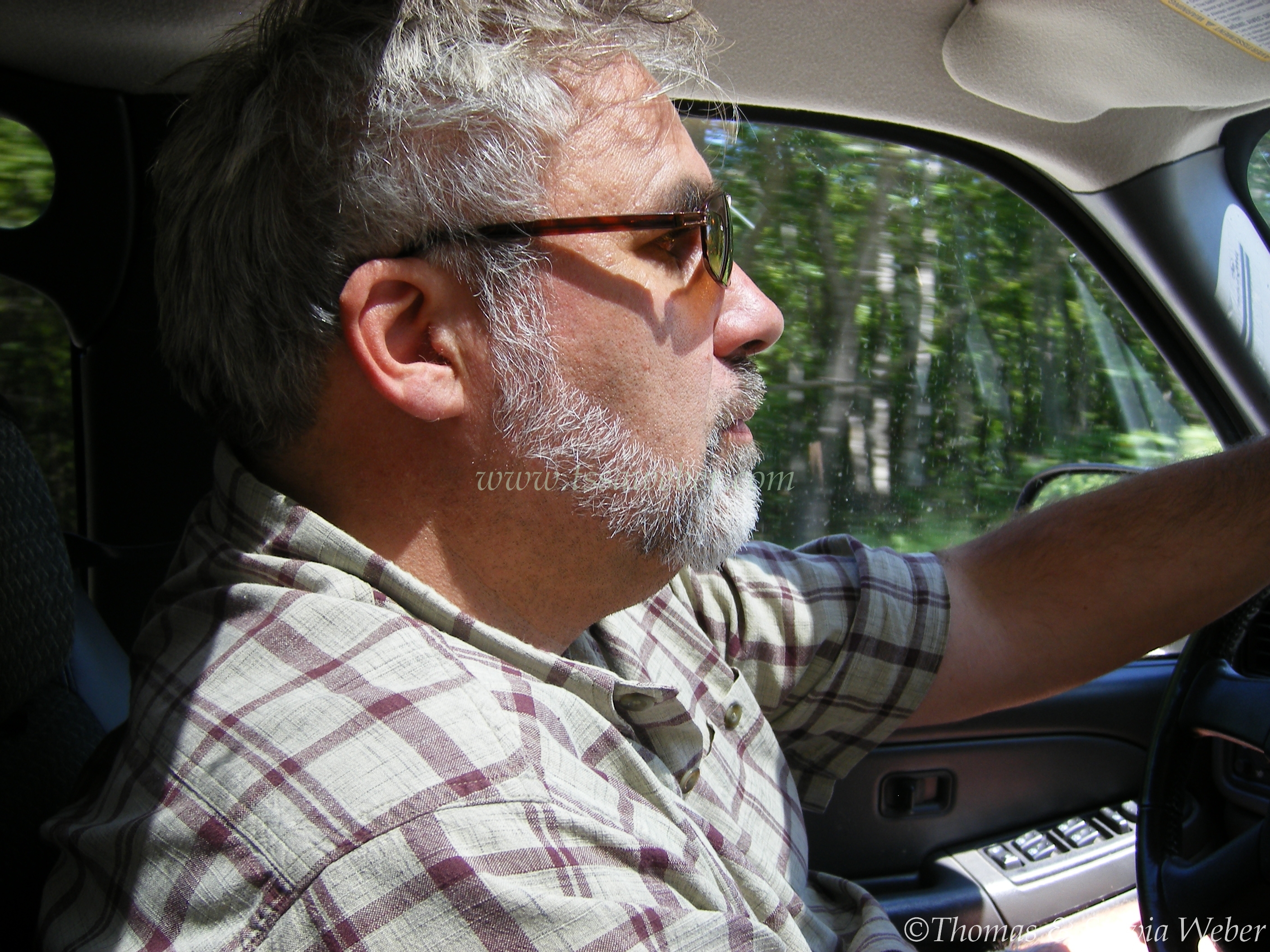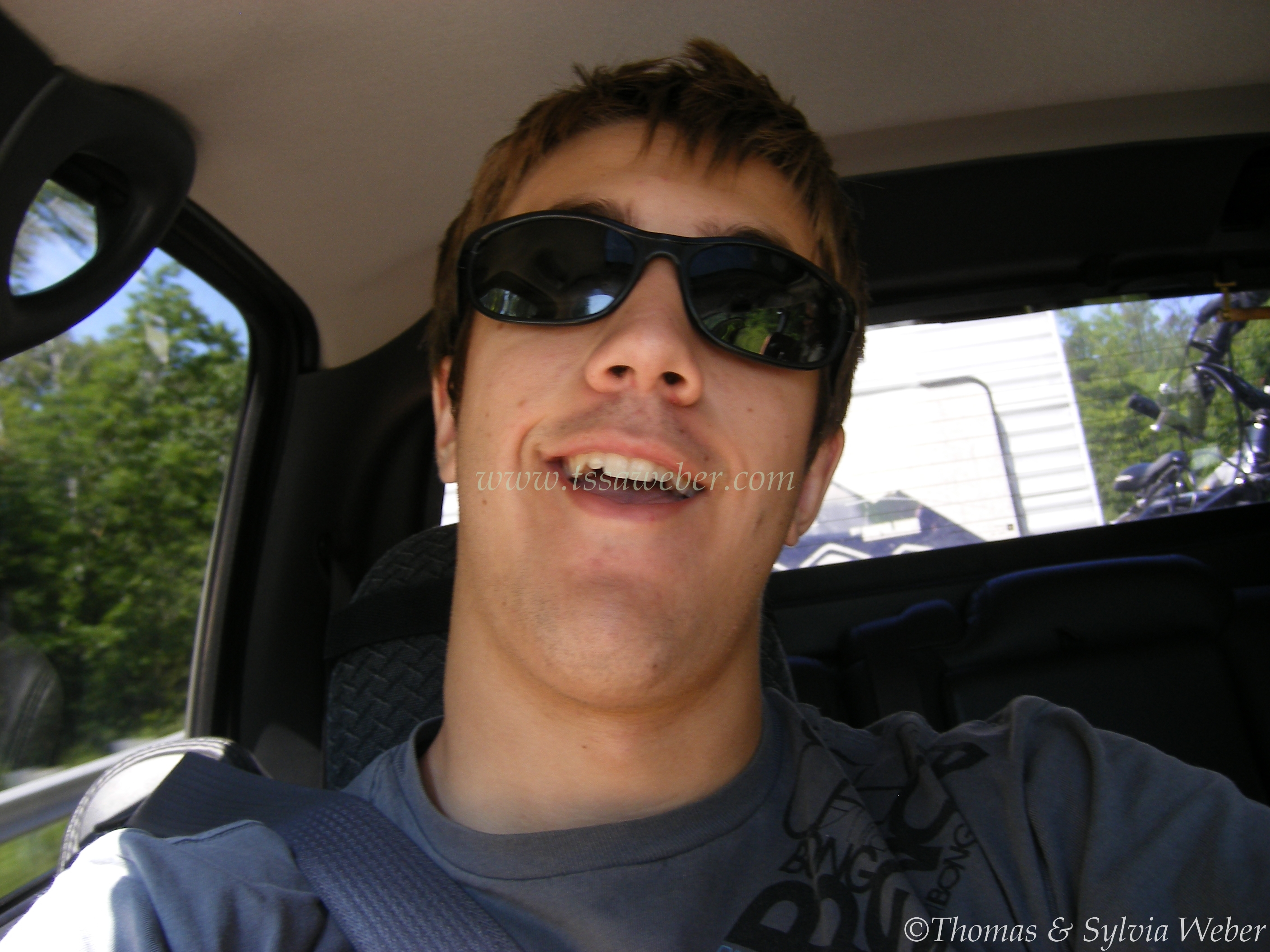 Tuesday, 7/28/2009, 06:30 am CST
We will leave early today (per Stephan's request) for St. Ignace. We found a good KOA campground there and a very promising trout river close by, apparently specially good for fly-fishers (hence Stephan's request). We will see if we can get the young guys out of their sleeping bags this early.The campground we stayed was nothing special, even though on a river. It is flowing to slowly for carrying trout. Nevertheless I have attached a couple of pictures.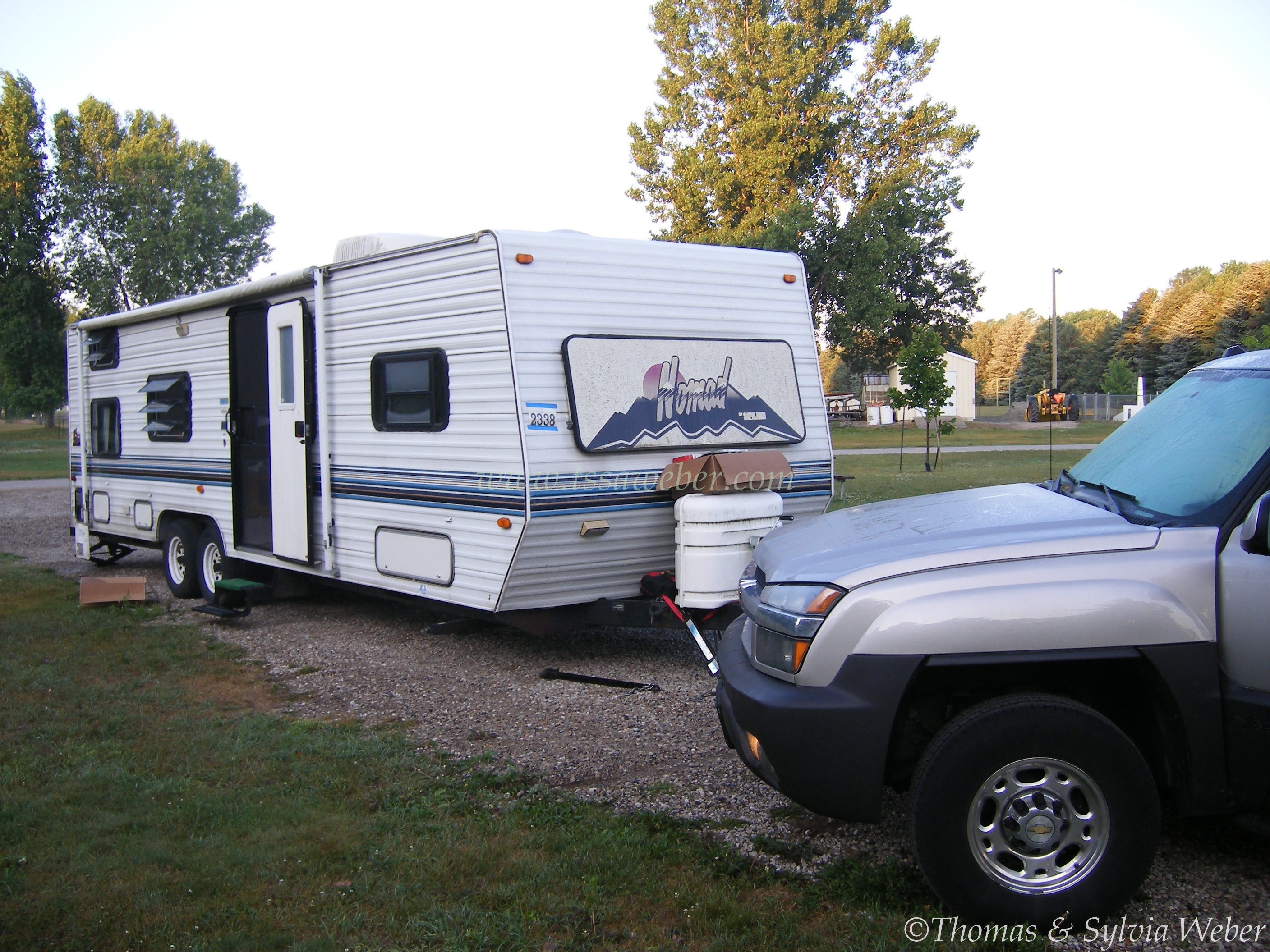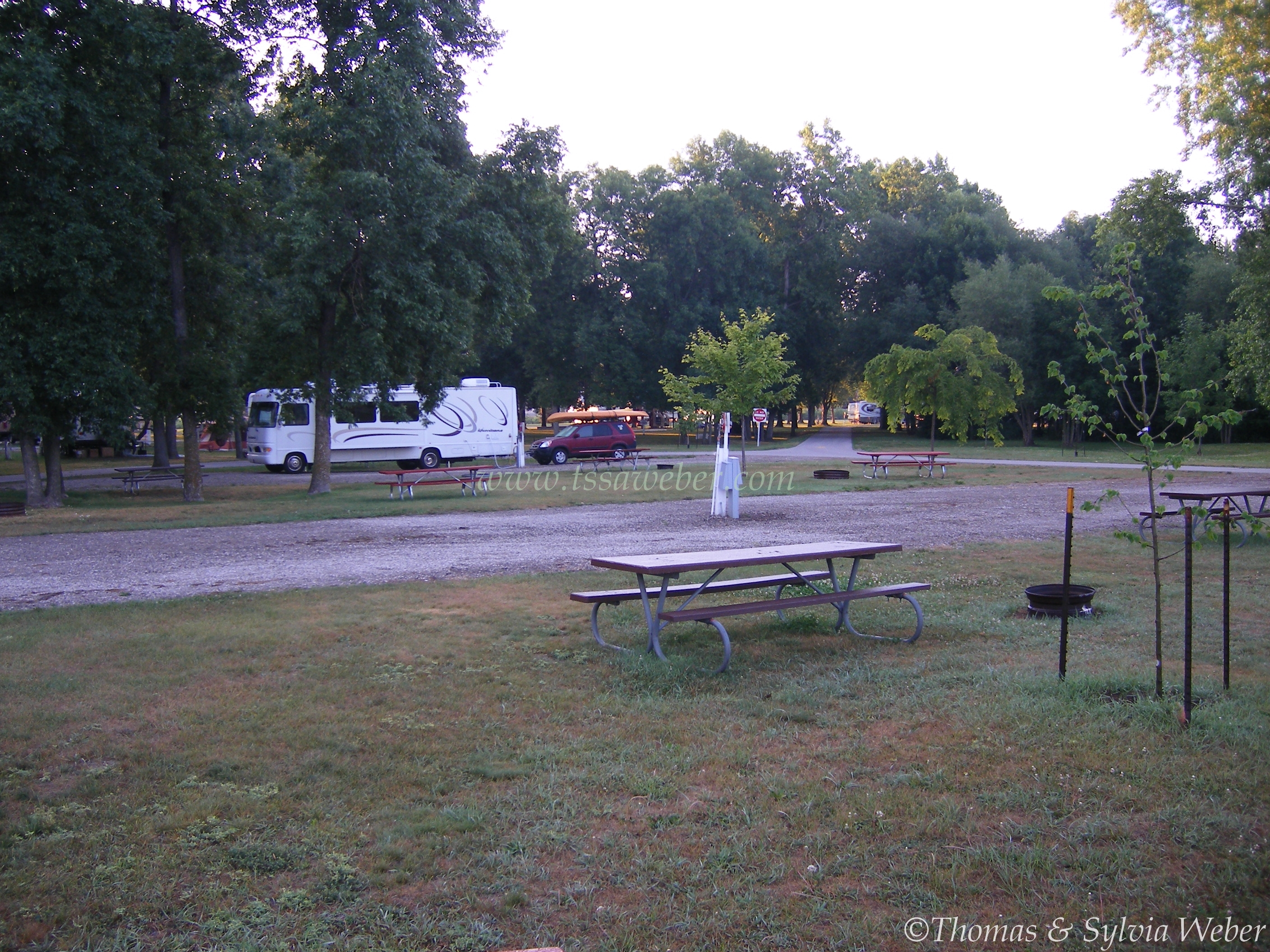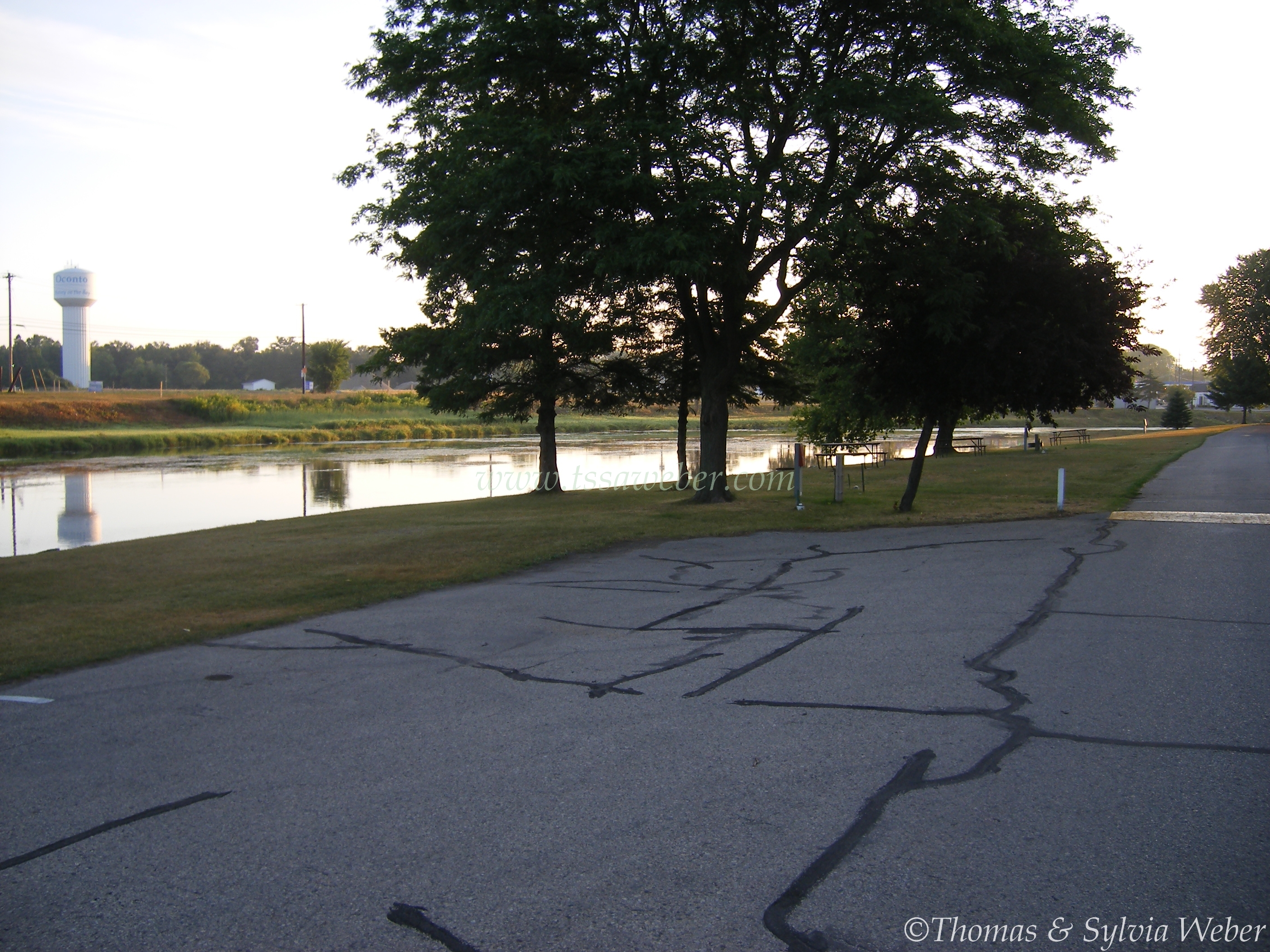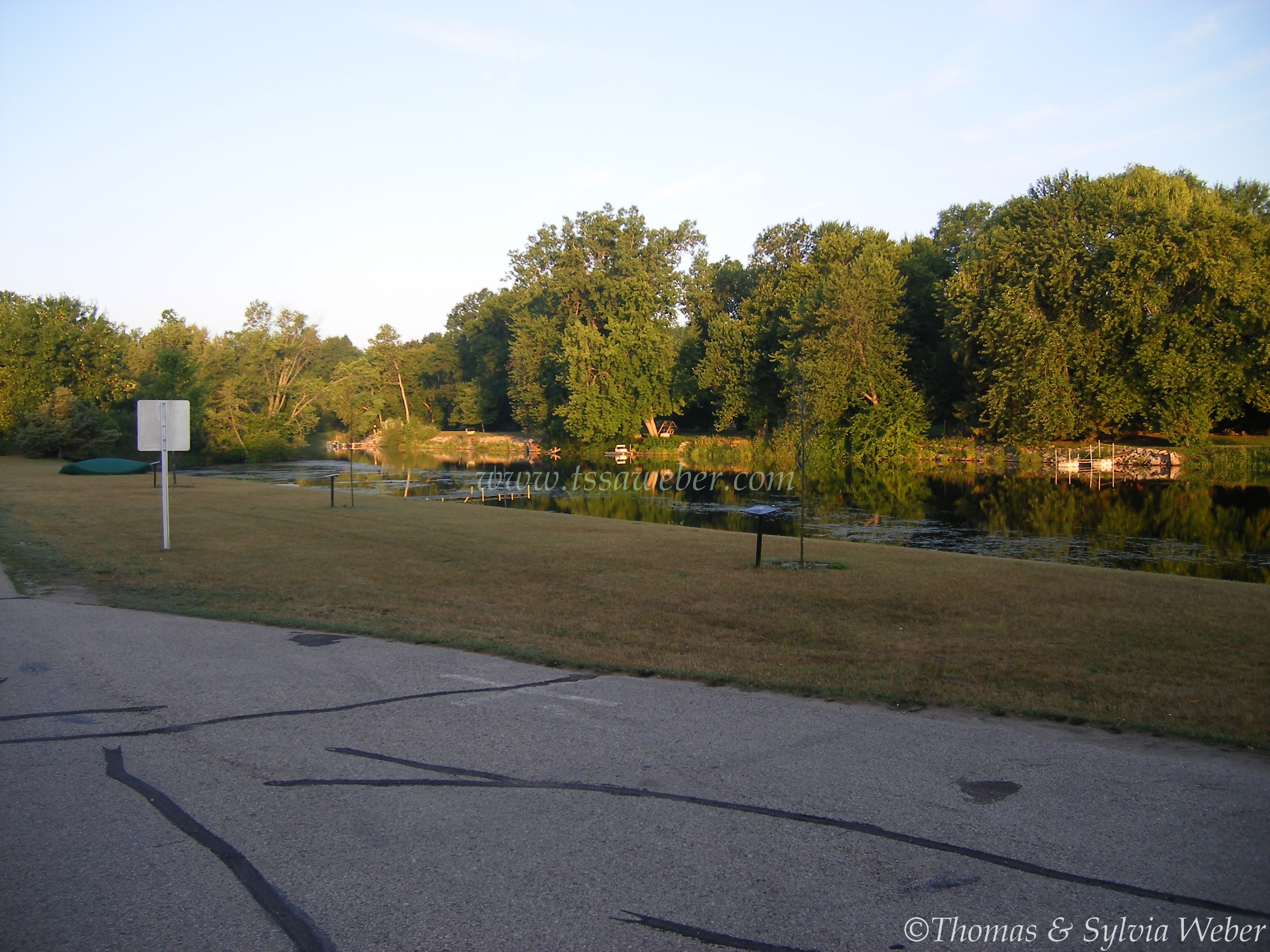 Monday, 7/27/2009
We have successfully picked up Dylan in Madison and are now on our campground in Oconto where we stay for the night. Oconto is right at the Wisconsin/ Michigan border.
The campground has no internet connection so we had to go to the gas station in town to connect. So we are sitting in the car typing.
I also cannot find the special screw to close our water heater, so we have to find a hardware store to get one, otherwise we have no water in the trailer. That would be bad!!
Otherwise everything seems to work and the boys behave.
Our Travel Trailer in the Bad Lands, SD
Sunday, 7/26/2009
We will leave West Dundee Monday around 10 am for Madison, WI to pick up Andreas' friend Dylan, who will join us for this trip as he did the last two summers.
Andreas' friend Dylan
Sylvia will stay home. This time is one of the peak seasons, Sweet Corn, at Tom's Farm Market & Greenhouses and she has to work. With this blog we will keep her updated.